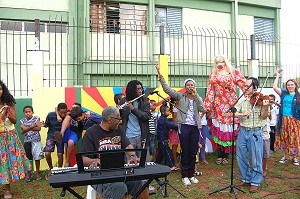 Several Chicago West Community Music Center staff, youth musicians and a local artist traveled to Brazil March 24 through April 3 to take part in an exchange of cultural ideas, create musical performances and produce several large scale, community-based public murals.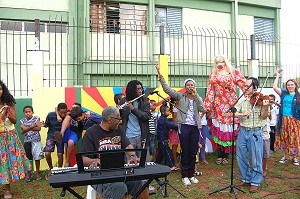 The trip by West Side Chicagoans included a series of art projects and performances by and for residents of low-income housing complexes in Santo Andre, Brazil, intended to foster a cultural exchange opportunity to enrich the lives of young people, artists and musicians here in Chicago, as well as in Brazil.
This summer, the project will send several youth artists from Brazil to work with young people in the East Garfield Park community,  who will participate in a music program at Chicago West Community Music Center.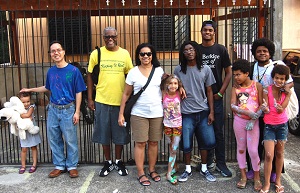 The Garfield Park Conservatory Alliance received a MacArthur Foundation grant allowing Chicago West Community Music Center teachers Charles Li, Darlene and Howard Sandifer and and two students, David Houston and Jamaal Crowder, to travel to Brazil.
Click here and here to read more AustinTalks coverage of the Chicago West Community Music Center.