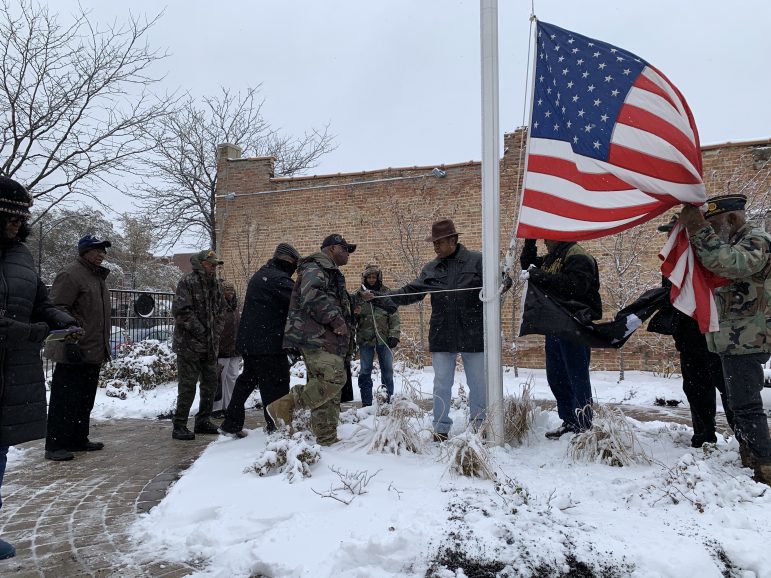 |
Veterans were honored Monday at the 29th Ward's Veterans' Peace Garden, 5413 W. Madison St. The event – held in the midst of falling snow and bitter winds – was sponsored by the recently formed Austin Veterans Community Organization (AVCO). The group will be meeting the third Wednesday of every month at noon at the 29th Ward Veterans' Peace Garden when it's warm enough to meet outside and at MacArthur's restaurant during the winter.

One of the experts featured in "FIRSTHAND: Gun Violence" is Jermaine Harris, a community policing sergeant in the Chicago Department's 15th District, who talks about using social justice as a means of supporting the Austin community. The series launches Nov. 12 on WTTW.

West Side residents who attended the meeting were asked two questions: What are the key problems that you would like police to address, and how would you like the police to engage more with the community? Another community conversation to discuss the strategic plan the Chicago Police Department is developing will be held Nov. 12 from 6 to 8 p.m. at Zoe Life Ministries, 3 S. Laramie Ave.

Voting will be available to any resident of the 29th Ward who is 14 or older. Ballots will be available online on Ald. Chris Taliaferro's website and in person at his office, 6272 W. North Ave.; at the Austin Chicago Public Library, 5615 W. Race Ave.; and at the North Austin Chicago Public Library, 5724 W. North Ave. Voting ends Nov. 20.
More Headlines