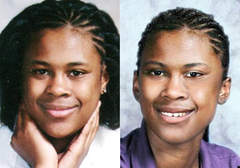 |
Ten years after she was last seen, friends and family of 15-year-old Yasmin Acree said they still hold out hope they will discover what happened to the honors student who disappeared on Martin Luther King Day in 2008.

Randel Josserand, chief of schools for Chicago Public Schools in the Austin and Belmont-Craigin neighborhoods, talked Sunday of his decades-long respect for Linda Brown of the Brown v. Board of Education case and his belief that educational equity is the centerpiece of the civil rights movement today.

West Side residents are encouraged to apply quickly as the Chicago Department of Transportation has limited funds for the popular program.
"Free Fitness Week" runs from Jan. 8 through 14. Take a fitness class, work out in the gym, go for a swim or try a number of other activities on the West Side and throughout the city.
More Headlines