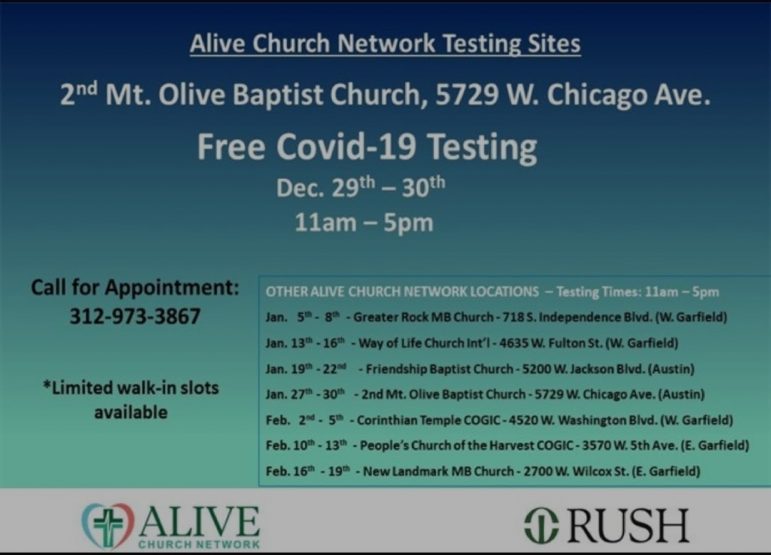 |
Free testing will be offered from 11 a.m. to 5 p.m. Jan. 19-22 at Friendship Baptist Church, 5200 W. Jackson Blvd., and Jan. 27-30 at 2nd Mt. Olive Baptist Church, 5729 W. Chicago Ave.

The relatives of several Illinois prisoners shared their concerns about how COVID-19 is affecting their loved ones. As of Jan. 11, 9,318 prisoners and 3,625 staff members have tested positive for COVID-19, said Alan Mills, executive director of Uptown People's Law Clinic. That number would be far lower if the Illinois Department of Corrections had started universal testing sooner, Mills said.

Two Austin businesses received small business grants to help them keep their doors open during the coronavirus pandemic. Mary Shyrese Home Day Care, 5418 W. Jackson Blvd., and Raze Up Grooming, 520 S. Laramie Ave., both secured small business grants from LISC Chicago, which received funding from the Verizon Foundation. LISC is now accepting applications for its Rebuild Distressed Communities grant program. An informational webinar will be held later this week.

Loretto Hospital hosted a virtual town hall last week featuring medical experts discussing the safety and efficacy of the COVID-19 vaccines, and the importance of having people of color participate in the clinical trials.
More Headlines