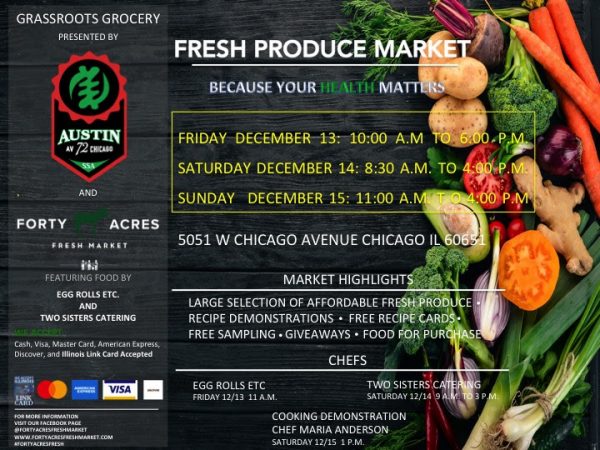 |
This month's fresh produce market will be held from 10 a.m. to 6 p.m. Dec. 13; from 8:30 a.m. to 4 p.m. Dec. 14; and from 11 a.m. to 4 p.m Dec. 15 at 5051 W. Chicago Ave. There will be a large selection of affordable fresh produce, recipe demonstrations, free sampling and giveaways.

29th Ward residents approved six out of seven projects that will be completed over the next several months. The projects include street resurfacing, community park improvements and a pedestrian crosswalk, with a safety island.

Traveling as part of the "Get Counted" bus tour, members of the Illinois Legislative Black Caucus made a stop at MacArthur's Restaurant to unveil a new partnership they hope will help hard-to-count areas such as Austin get an accurate count in next year's census. The data collected every decade determines the number of seats each state has in the U.S. House of Representatives and is also used to distribute billions in federal funds to local communities.

The hospital – which remains the largest private employer in Austin, with 624 people on staff – received an A rating for its fall report, after receiving average ratings of C's and D's. The Leapfrog Group, a national nonprofit based in Washington, grades hospitals across the country on factors like in-patient care, infections and practices to prevent error. Hospitals voluntarily participate, and Leapfrog releases reports twice a year.
More Headlines