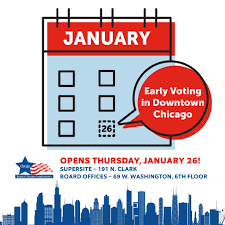 |
Early voting began Jan 26 and continues until Election Day, which is Feb. 28. Chicago voters can cast their ballots now at the voter supersite at 191 N. Clark and the election board offices at 69 W. Washington.

On Sunday, Congressman Danny K. Davis and Ald. Emma Mitts endorsed three candidates running for the new police District Councils on the West Side.

Starting Jan. 16, qualifying Nicor Gas customers can apply online for help with their monthly bills.

Find out if you could qualify for up to $60,000 in emergency mortgage assistance by applying to the Illinois Housing Development Authority.
More Headlines