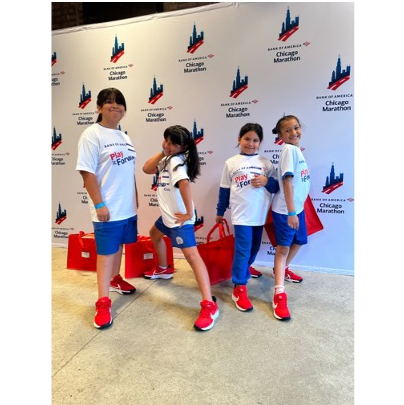 Over the last 20 years, Ashley Graham has run 56 marathons – including the Chicago Marathon five times. Several of those marathons she raised money for charity – and this year was no different.
One of more than 40,000 people who ran Sunday's Chicago Marathon, Graham was running 26.2 miles to raise money for Girls on the Run.
The Chicago chapter of the national nonprofit brings together 3rd to 5th grade girls from several West Side schools – St. Ann School, LEARN Romano Butler campus, Epiphany Catholic School, Jensen Miller Scholastic Academy and Catalyst Circle Rock – to learn the basics of running.
Just days before the 45th running of the Chicago Marathon, race sponsor Bank of America hosted a running clinic for the young runners. The second annual "pay it forward running" clinic paired Girls on the Run Chicago members with elite athletes, running trail blazers and Olympians, including Jackie Joyner-Kersee, Treniere Moser and Kelita Hollins.
More than 50 girls from the five West Side schools received two hours of hands-on running techniques during the Oct. 4 clinic held at Bridge 410.
The girls visited three activity stations, including one where they were sized for a new pair of Nike running shoes each received.
Over 10 weeks this fall, the girls participate in twice weekly practices at their school, with the goal of running a 5k in early November.
"It really inspires girls beyond just the physical piece of running and kind of the mental aspect of being physically healthy and being together and having the camaraderie," Graham said. "A lot of it's about competence, ability, and it's a lot about resiliency."
Last week's clinic was the only time the girls from different schools come together as a collective and get to participate as a larger group of Girls on the Run.
Graham said getting to train with professional athletes was inspiring for the young girls. And they also got some good advice.
"Jackie Joyner-Kersee did such a great job. She really got into it and was participating but had a great message at the end … 'Show up every day and work hard. Listen and be coachable. and believe in yourself.'"
Although the girls didn't run in last week's marathon, they did get the chance to cheer on Graham, who coaches them through Girls on the Run.
"The exciting part about Bank of America doing these events ahead is … they got to see what's really possible, look at these athletes that are running the marathon and look at these athletes that have run (in the) Olympics," Graham said. "Hopefully, it allows them to be inspired further to understand what what more they could do with it after their program ends."
Graham said the group is always accepting contributions. "Anyone who is moved by the work that Girls on the Run does in our communities can make a donation or get involved by visiting www.gotrchicago.org."