Austin moves one step closer this week to getting a new grocery store with the groundbreaking of Forty Acres Fresh Market in the heart of the Soul City Corridor.
Another effort to expand food offerings on the West Side continues with the Austin Community Food Co-op, which held a virtual info session last week on its efforts to bring a grocery store to the area. Two more sessions are planned this month.
Forty Acres Fresh Market, an independent, Black woman-owned grocery business run by Liz Abunaw, began construction of its brick-and-mortar grocery store at 5713 W. Chicago Ave. in late September after receiving the required city construction permit.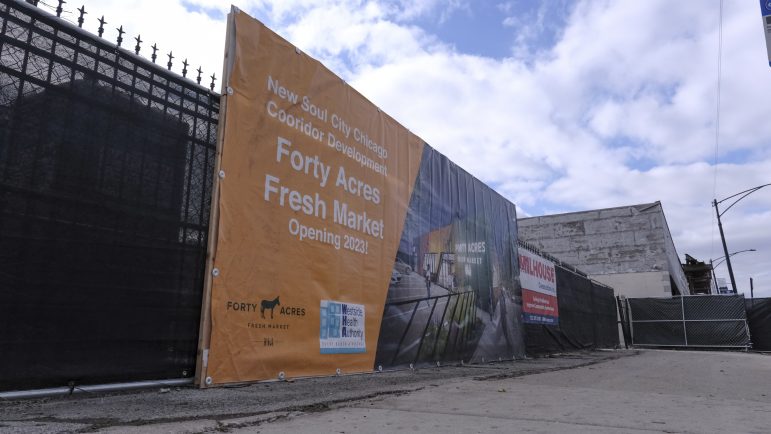 On Wednesday, the start of construction will be commemorated with a ceremony from 11 a.m. to 1 p.m. at the site. Abunaw predicts the store will open in the second half of 2024, with a specific opening date set as construction progresses. Less than 25% of the construction process has been completed.
Abunaw said they have undertaken a complete rehabilitation of the building, which used to house a Salvation Army thrift store.
"Even though we're still eight months from the projected completion of the building and probably another 10 months from the store opening, it feels like it's happening very, very fast," Abunaw said.
The road to receiving the necessary permits and getting their bureaucratic ducks in a row has been a long one. But once their doors open, it will be the only grocery store in the immediate area. The nearest full-service grocery stores are Pete's Fresh Market at 259 Lake St. in Oak Park and the Walmart Supercenter at 4650 W. North Ave., both more than a mile away.
Malcolm Crawford, executive director of the Austin African American Business Networking Association, who operates a business just down the street from where the Forty Acres Fresh Market will open, said this process is daunting. Chicago's permits and zoning laws makes the development of community-owned grocery stores, specifically in divested communities like Austin, difficult to navigate.
"In general, the maze of permits and zoning and what happens in Chicago is a very difficult process," Crawford said. "It is getting better, but it is very daunting. Most chemists and scientists probably couldn't figure out the zoning process."
Crawford said the development is an important addition to Austin, since a Black-owned grocery store in a Black community doesn't happen often.
"The fact that it's Black-owned is a very proud moment and a proud part of this for our community. As a community that's largely African American to now have an African American led grocery store is a good feeling," Crawford said. "It's a good shot in the arm because I say all the time, our kids cannot be what they don't see. So seeing something like that will help them to believe that if they can do it, we can do it."
Abunaw is excited to develop a physical location for Forty Acres Fresh Market, but she said people don't have to wait to shop with them. In addition to wrapping up their Austin Town Hall season late last month, Forty Acres' produce delivery box service is available for customers seeking fresh groceries delivered to their homes.
While Forty Acres is a for-profit business, it's possible the other effort in Austin Community Food Co-op could wind up being a co-op or non-profit grocery store.
Earlier this month, the food co-op held the first of three virtual info sessions about how the group will proceed in its work.
The other virtual meetings will take place from 6 to 7 p.m. on Nov. 15 and 29, at which the food co-op will use to find permanent members to serve on the 10- to 15-member Steering Committee that directs the group's mission to create a community grocery space in Austin.
Vanessa Stokes, co-founder of the food co-op, said she hopes a grocery store could open in two and three years.
"Continuing to encourage people to come to the table and empowering them to use their voice, empowering them to see the possibility. That's how we collapse time and make it happen sooner," Stokes said.