Over 100 people stopped by Austin Town Hall, 5610 W. Lake St., last Thursday for its first day of the 2023 season.
Five vendors sold their products, with many more vendors expected in coming weeks; the market will operate on Thursdays from 1 to 6 p.m. through Oct. 26.
AustinTalks dropped by early on opening day to speak to vendor host, Forty Acres Fresh Market. Other vendors present included Thank God 4 Raw Vegan Treats, Kribi Coffee and Vulgar Vegan Cupcakes. The market has its first skin care vendor, All Butter'd Up.
While the adults shopped, Cruelty Free You + Me managed a kids corner to keep children occupied with coloring pages, obstacle courses and a game of bean bags. The Chicago Park District provided a food truck to feed customers on their way out of the market.
In coming weeks, there's expected to be a mix of vendors including Mother Preppers and Fatso Hard Kitchen, along with others (see full list at the end of the story). Some vendors will be present just once a month, while others will be there more regularly.
Once the tents were set up Thursday, Veah Larde, the new market manager for Austin Town Hall city marketing, began counting visitors with a clicker. Larde's goal: to have at least 150 people visit every Thursday.
By the end of the market's first day, about 110 people had visited, which came closes to the biggest grossing day last summer at 122. This season there are more vendors than last year, and that will continue to increase over the summer. About 20 vendors in all are expected over the summer.
"Next Thursday, the market will have double the amount of vendors than we have today," Larde said, referring to June 15.
Loré EnJoli, CEO and founder of All Butter'd Up, heard about being a part of the market from one of her friends, Nyla Holly, who was representing Homegirls Hummus. This wasn't EnJoli's first time in Austin, but it was her first time being a part of the farmers market.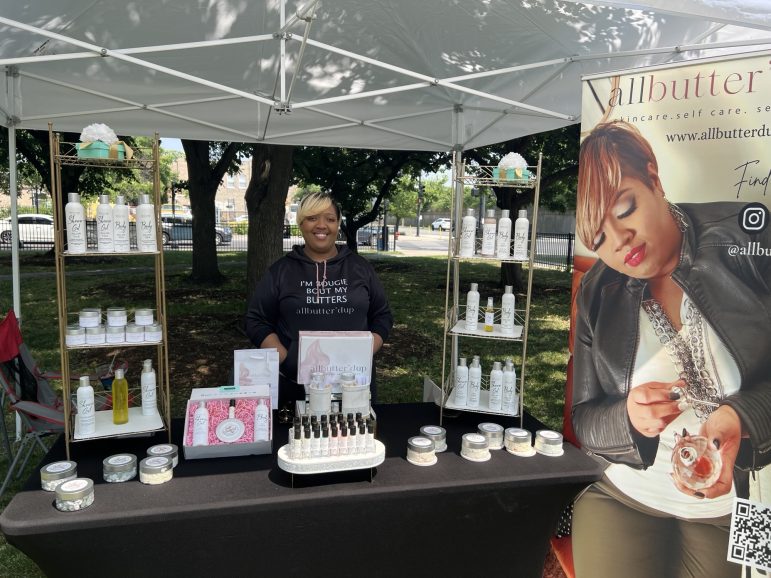 "I used to come to the Austin Town Hall a lot as a kid in my teenage years … Being here definitely reminds me of my childhood. It's a very nice venue, nice location, not too loud, not too busy but just right," she said.
EnJoli was selling shea butter–based natural handmade skincare products for both men and women – shower gel, body butter, body oil and fragrance oil.
"I just want to get Black women to prioritize their self care through their skincare, all women but especially black women, because most of the time we don't make it to our to-do list, and if you use all buttered up once throughout your day, you prioritize your self care."
Thank God 4 Raw Vegan Treats was one of two vegan–based vendors at the market.
"I'm a nurse, so we partner as far as with healthy food and just the overall health as far as your mind, body and your soul," said Gilda Mathis, who partners with Michelle Scott, owner of Thank God 4 Raw Vegan Treats. "You know, medicine is really good, but food is also a healer as well."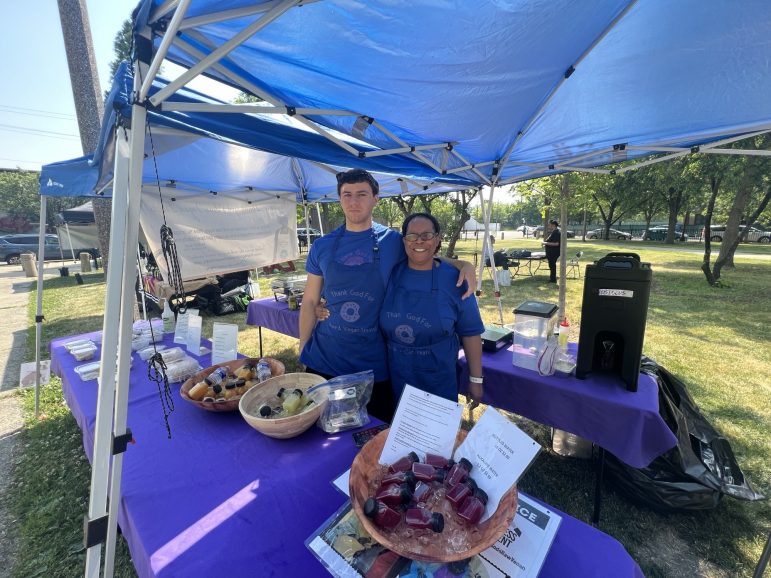 She and Scott were selling handmade vegan treats, detox drinks, anti-inflammatory drinks, beet juice and other vegan items.
"Just give it a try. You never know. The food is so amazing … (you'd) be so amazed how it makes you feel if you just give it just a try just one time, you'll be amazed."
Austin–based business Forty Acres has been running the market every summer since 2020. Liz Abunaw, owner and operator of Forty Acres, noted customers can use their link/SNAP card to make purchases.
"If you have a Link card, this is the best place to buy food because of the link match program … it's like you get this really high-quality, kind of expensive food for like half the price. It's better than the grocery store," Abunaw said.
The Forty Acres stand sells over 25 types of locally grown fruits and vegetables.
Friends Crystal Mangrum, of Wicker Park, and Tamra Hannah, from the South Side, found the market online when looking for a Black owned produce market. The market had more than they expected.
"I thought it was just like produce," Hannah said.
The two said that they will definitely return.
There are three other farmers markets operating on the West Side this summer:
Garfield Park Neighborhood Market, 135 N. Kedzie Ave. – from 10 a.m. to 2 p.m. on the second and fourth Saturdays through Oct. 28
West Humboldt Park City Market, 3601 W. Chicago Ave. – from 10 a.m. to 2 p.m. on Saturdays through Oct. 7
PCC Austin Farm Stand, 330 N. Lotus Ave. – from 10 a.m. to noon on Thursdays through Oct. 26.
Here's a list of vendors who will be selling this summer at Austin Town Hall (not all of them will be there each week):
Lush Flower Bar Fatso Hard Kitchen