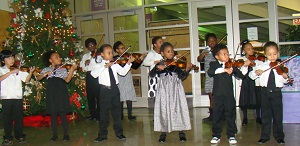 Chicago West Community Music Center's WISH (Westside Instructional String and Harp) students performed for the staff party hosted by The Foundation for Homan Square held last week.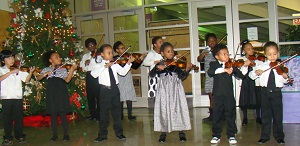 The students – who played violin, cello and guitar – charmed community visitors, the Homan Square faculty, and the principal and staff of Power House High School at the Dec. 8th event. They were led by Charles Li.
The WISH string program is in its third year, with students as young as 4 and up to 16 years of age.
The school aims to enrich and enhance the quality of life for West Side and West Suburban area youth. They plan to establish a West Side Orchestra with the WISH program.
In a recent newsletter, administrator Darlene Sandifer announced the school received a donation from the Local Initiatives Support Corporation.
"Thanks to LISC and Marva Williams, senior program officer, Great Neighborhoods and New Communities Program – who approved the grant, our orchestra is within reach," Sandifer said.
Classes for the WISH program are held at 100 N. Central Park Ave. each Saturday from 9 a.m. to 2:30 p.m. For more information about the school, click here or call 708 386-5315