C B Johnson is no stranger to community service. Part of a family with 12 children, he was always baby-sitting and watching out for other youngsters in his neighborhood in Austin, making them part of his extended family, he says.
Now at 50, Johnson wants to take on the problems of an even larger family, a group with a myriad of problems and quirks – those of the 29th Ward. And with the right people bringing this disparate band together, important issues like education, jobs and public safety can be dealt with effectively, he said.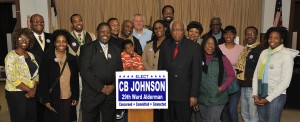 "We have to sit down and hammer out ways to engage the people and get a clear idea of what they want to see," Johnson said. "I would like to see my community change and grow in a direction that's good; it's at a standstill."
One thing Johnson said he's learned in his years of political field work and as chief executive officer of the Campaign for a Drug Free Westside: the 29th Ward lacks strong leadership and a willingness of its leaders to truly sit down and speak with the community.
Other 29th Ward Candidates
"You have to be there to sit down and talk and engage them. Residents are aware of what's going on, and people say they know what they want to see," Johnson said. "I've never felt too important to come out and talk with someone."
One way, he says, to tackle the 29th Ward's problems is to conduct a five-year strategic plan with measurable goals and would include a reassessment of how it's working every 18 months. The plan would be created by people from all 49 precincts across the ward, Johnson says.
An education task force comprised of teachers, administrators and parents would assess what to do in the schools. Business summits would help explore ways to improve local job prospects, and he would work with people to help them create their own small businesses. To tackle crime, he would reignite block clubs, community watches and work closely with the Chicago Police Department's 15th District.
"There are so many different people and personalities and attitudes and issues," Johnson said. "But people have to recognize that I might not have all the answers. I have to be a leader and a follower, someone who has to listen to others' ideas, focuses, drives and directions and see how we can make them work."
This is Johnson's second run for public office. In 1999, he was one of eight other candidates challenging then-incumbent Ald. Sam Burrell; the eventual winner was Isaac Carothers, who resigned from office last year after pleading guilty to corruption charges.
Johnson has filed a statement of organization with the Illinois State Board of Elections, which is required after a candidate raises or spends $3,000. He has yet has not filed a report for the period ending Dec. 31, 2010, which is also required.
His campaign has been notified about the missing report, and a fine has yet to be determined, said John Levin, a campaign disclosure specialist with the Illinois State Board of Elections.
Calls have not been returned either by Johnson or his campaign manager, Adam Farmer, seeking comment about the missing report.
Campaign address: 308 N. Central Ave.
Telephone number: 773-295-7381
Questionnaire completed for the Chicago Tribune, Sun-Times and AustinTalks.
Statement of financial interests