As a youngster, Jill R. Bush learned the type of multi-tasking needed to buy groceries, watch after family members and handle the finances.
Now she wants to harness that energy to help restore Austin's vitality and rebuild its image.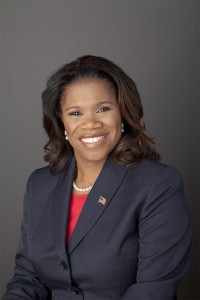 "There are a lot of young people who need direction; seniors need direction. We need to connect the dots between organizations and generations, and together we can build community. Austin has so much potential."
The life-long West Sider wants to see the ward gain the kind of amenities that are common across Austin Boulevard in Oak Park. She wants to bring a Starbucks here so she can stay local for her coffee fix. The community continues to be a "food desert," lacking choices that make it challenging for residents to fight diabetes and high blood pressure, she said.
And Bush wants safe streets and better schools, too.
Other 29th Ward Candidates
Mary Russell Gardner (story coming Monday)
Deborah L. Graham (story coming Tuesday)
C B Johnson (story coming Wednesday)
Oddis "O.J." Johnson (story coming Thursday)
Roman Morrow (story coming Friday)
Beverly D. Rogers (declined to be interviewed)
Thomas E. Simmons (story coming Saturday)
"It's painful to see that things are not going anywhere," she said. "We should be further along."
Bush said that to move Austin along, the area's next alderman must work full time and be engaged; have strong communication, networking and organizing skills; and be someone who can get residents out of their homes and inform them more about what's happening in the community.
They won't come to you; you have to go to them, she says – and that means going to laundromats, shops, hair salons and multi-unit apartment buildings.
Bush said she would work with businesses and corporations to bring more businesses in. As the associate director of the Loretto Hospital Foundation, Bush said she's had to secure funding for programs , so she can find money for educational and training programs to retrain displaced workers and help young, black men coming out of prison.
"We can't just throw them away. They're coming back to the community, and people aren't hiring them. We need to do what we can to help them get back on their feet," Bush said. "This all will take baby steps."
A product of Genevieve Melody/Cole Elementary School and a graduate of Marshall Metro High School, Bush earned a bachelor's degree in business management from DePaul University and a master's degree in organization and leadership from Lewis University. She's married with two sons.
Much of her campaign is self-funded. As of Dec. 31, Bush reported raising about $41,000, with a majority of that coming from loans. Her campaign has spent about $31,ooo.
Campaign headquarters: 5835 W. Madison St.
Telephone: (773) 430-8504
E-mail: jillbush29thward@gmail.com
Questionnaires completed for the Sun-Times and Chicago Tribune
Questionnaire completed for AustinTalks
Statement of financial interests