|
The Monroe Foundation will hold an informational session 10 a.m. July 30 at Austin Town Hall.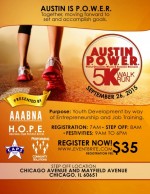 |
A coalition of organizations are hosting the inaugural event, which is raising money for job training opportunities and entrepreneurship experiences for young people.
|
Bethel New Life will soon start its next round of entrepreneurship classes. Learn more at the orientation meeting tonight at 5 p.m., 1140 N. Lamon.