Austin Harvest, a youth-led, open-air market at 423 N. Laramie Ave, recently held its second fall family festival.
About 40 people visited the market Sept. 25, enjoying the seasonal festivities that included live music from The Asaph Band and fall treats from featured food vendor J. Spice.
"We decorated and everything, had the fall vibes going on," said Joshua Taylor, a senior at Chicago Bulls College Prep and one of the youth entrepreneurs running the market. "It was something to engage the community."
Engaging the community has been a priority of Austin Harvest, which opened in 2020 after By the Hand Club for Kids students connected with former Bears linebacker Sam Acho, the 15th District Police and other community leaders at a peace circle during which they discussed racial injustice and equity, and how they could strengthen their community.
This led to a tour of Austin where the students observed a lack of fresh food options with liquor stores outnumbering grocery stores, 19 to 3, at the time. Less than two months later, with 10 students leading the way, Austin Harvest opened its doors.
"I've always wanted to help out my community," said Neveah Hester, a junior at Michele Clark Magnet High School who's participated in By the Hand programs since 2nd grade.
"My first thought was never really to open a fresh produce market because it didn't necessarily occur to me how few produce markets we have or how little our access to fresh food is within the Austin community."
What was initially supposed to last only 12 weeks turned into 24, then 36 – and more due to the demand of the community. The next step for Austin Harvest is a permanent structure that will allow them to stay open during the winter months.
The students have had strong support from Acho and Athletes for Justice, which raised more than $650,000 through a 24-hour radiothon on 670 The Score radio.
"When you see the success of this, it shows that we believe in Austin and hope others do, too," said Rodney Williams, director of entrepreneurship and economic development at By The Hand.
"The kids have bought into what we're doing here. When they put their ideas out there, as adults we partnered with them to make their dream become a reality. Now they won't dream outside of Austin because they've seen that something can be successful right in our community."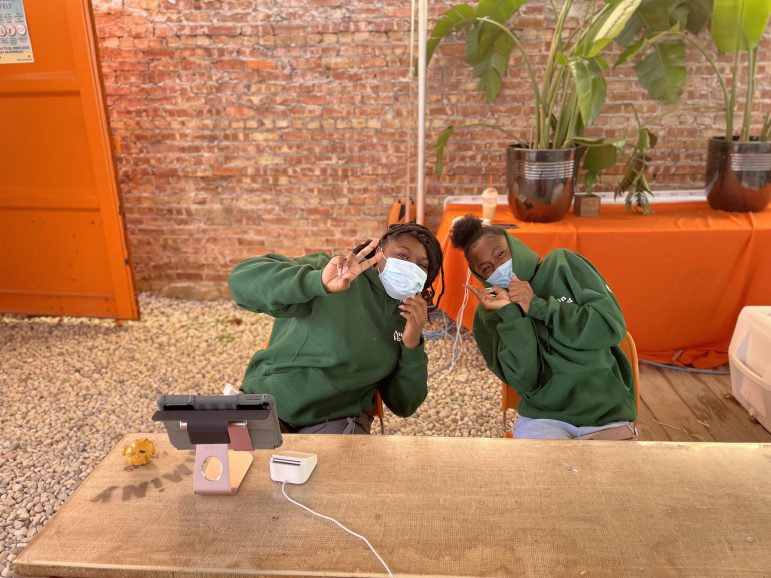 The young entrepreneurs of Austin Harvest shared the significance of the market to them and advice they would give to other students wanting to make a difference.
"What Austin Harvest means to me is basically a change in the community and bringing hope. It opens lots of possibilities," Taylor said.
"Look for the people with a similar mindset to yours but also people who are open-minded as well," Hester said. "If you all always agree on the same thing, it might be easier, but it won't be as fun to debate on what you think can best help a community. Get people who think like you in the sense of wanting to help but also get opened-minded people."
Austin Harvest is currently open Monday, Wednesday and Friday from 2-6 p.m.