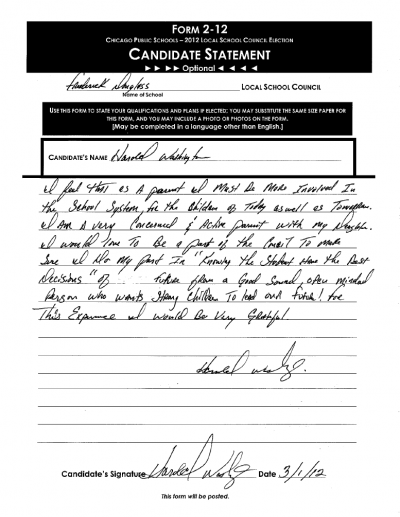 Not enough parents are running for a seat on the Douglass Academy High School's Local School Council, which could confirm two current LSC members' belief that parent involvement at the school is too low.
Four parents have submitted the necessary paperwork to run for the one of the six LSC parent spots — Misty Brown, the LSC's current chair; Evelene Gordon; Shanta Brown; and Harold Washington.
Brown did not return AustinTalks request for an interview, and AustinTalks could not reach the other candidates for comment by deadline.
Catherine Jones, current LSC community representative who's up for re-election, said recruiting parents for the council has been difficult.
"Parents just do not want to be involved in the school," she said. "Your kids go here. Why aren't you concerned about your children?"
She added that low parent participation could be credited to busy work schedules and the lack of information about what LSCs do.
Once the new council is elected, it will have to recruit two parents to fill the vacant slots.
At each public school in the city, councils are made up of the six elected parents, two community representatives, two teachers, one school staff member – who is not a teacher – and the principal. In high schools, a student also sits on the council.
Local School Councils, which are elected every two years, have the power to hire and fire a principal, and determine how to spend a school's budget, among other responsibilities.
Community members Jones, Patricia Easley, Betty Robinson, Gregory Taylor and John Oliver are vying for the two community representative slots.
Robinson agreed not enough parents, community members and local businesses are involved with the school.
This year, some students cannot go to their prom because graduation expenses are too high, said Robinson. She asked the current LSC to help with fundraising in order to send students to prom who couldn't afford. She's still waiting to see if other LSC members will help.
"I think about when I graduated," Robinson said. "I wanted to be a part of all those functions."
Robinson said she doesn't want any student at the school to look back after graduation and regret not being able to go to the prom. The new  principal and LSC will need to be more diligent in bringing additional resources to the school, she said.
"There are some schools that always have some businesses involved getting funding or just donating different things to the school," she said. "We tried to talk with the current principal and didn't have much success. We hope with new (principal) we can get the community involved."
Douglass' specialized service teacher Gerald Roberson and payroll clerk Carolyn Randle are also on the ticket.
Neither candidate returned AustinTalks e-mails and calls for an interview.
Douglass Principal Debra Crump is retiring at the end of the this school year, and the LSC is immersed in the new principal selection process. Jones said at the moment, the council is looking at more than 10 principal applications and should have it narrowed down to a few candidates by June.
Crump told AustinTalks in a brief phone interview that one of the main issues at the school that the next LSC will have to address is the high number of expelled charter school students who get "dumped" at Douglass.
She said school boundaries need to be adjusted to limit the students who come to Douglass after leaving a local charter school.
Jones said the school does have special needs students who have various learning impediments.
It's going to be the next LSC's responsibility to bring more resources to the school for mental health and special needs staff and programs, she said.
Douglass will also need to improve its attendance, Jones said.
The school has less than 500 students out of a 1,000-student capacity, which means it's not allowed to have an assistant principal, Jones said.
"Our funding went way down last year because we don't have a lot of students," Jones said.
It's up to the LSC, but also the new principal, to recruit more students, said Robinson.
"The school can hold twice as many students then we have now," Robinson said. "A lot of the kids are going to charter schools or some other type of school, and so our enrollment is low. That's going to be something the new principal will have to deal with."
Jones is worried that the under-enrolled and low-performing Douglass may be the next school on CPS' chopping block.
AustinTalks reported in December that CPS spared Douglass last year when the district released the list of schools slated to close at the end of 2011-2012 school year. Douglass was one of the more than 140 public schools that met school-closure criteria with a Level 3 rating, CPS' lowest level of school performance, and being on academic probation.
"I don't know what (CPS) is going to do to us next year," Jones said. "Our school's a prime target."
Elections will take place at the school April 19 from 6 a.m. to 7 p.m. Parents, staff and community members who live within Douglass' attendance boundaries are allowed to vote. For more information contact Douglass at 773-534-9830 or CPS' Office of Local School Council Relations at 773-553-1400.
Optional candidate statements below: