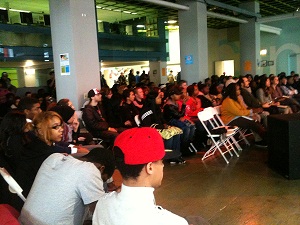 The kids are fearless on stage.
There's a moment of anticipation before each performance as some carry sheets of paper up to the microphone and others recite poems from memory.
The historic building that houses Columbia College's Conway Center at 1104 S. Wabash is packed with teens and young adults – and filled with energy inspired by day two (Feb. 24) of the Louder Than a Bomb poetry slam.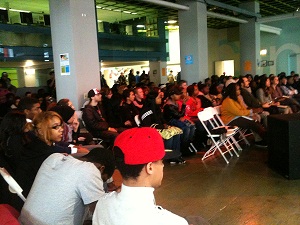 The 12th annual gathering of teenage writers and poets from all over Chicago is a poetry competition created to foster unity and new culture among the city's youth. But here the "competition" is downplayed in favor of common ground.
"We like to say that the point is not the point; the point is the poetry," said Kevin Coval, co-founder of Louder Than a Bomb and artistic director for Young Chicago Authors. "Slam poetry is a tool to bring people together; it's a sort of guise, and it works."
While the competitive aspect of Louder Than a Bomb is a platform for youth to engage with a diverse group of cross-city peers, a spirit of similitude encourages the young poets to hone their expression and their bonds.
The small groups of about seven to 10 students represent their respective schools, shouting a prideful cheer in unison when one of their members steps up to the mic. But by the end of each performance, a round of applause from every school goes up for each poet.
"I like to see how other people come up with their poems," said Rae Legg, a 15-year-old former Austin resident who now attends Phoenix Military Academy. "I like to feel other peoples' emotion."
Legg seemed to impress not only the crowd with her poem, but the five-member panel of judges as well. She received one of the highest 10-point scores for an individual performance.
As a member of one of four schools represented on the second day of Louder Than a Bomb, Legg and many of the other teens present performed individually as part of a four-member team.
Each of the teams – the "Uplift Flamespitters," "A Tribe Called West," "Battle Cry" and Austin Career Education Center's own "West Side Warriors" – sent up four poets — one for each of the four rounds.
Rivalry may be too extreme a word for the sense of competition between the teams, but, obviously, each wants to win. The atmosphere is artistically driven and supportive — but this is still slam poetry, a style of performance known for skill, wit and a certain sense of bravado.
With Louder Than a Bomb, that attitude and swagger is mixed with a much larger degree of activism and social engagement.
The young poets are deft with their words when they speak of their communities, families and lifestyles. They're emotional and defiant; simultaneously young and more observant than their age would suggest.
They rhyme about love, violence, sexual abuse, family struggles and their neighborhoods, among other topics, with a consistent level of depth, humor and understanding.
"It comes to the mind, then I put it down on paper," said West Side Warriors team member Shannon Carr about his writing process. "I see it first. It comes from the heart and what I've been going through in life."
Carr, 20, is one of seven students that make up the Austin Career Education Center's Louder Than a Bomb team. This is the school's third year participating in the event, and this year they're looking to make it to the final round.
"I really hope we win, but at the end of the day I'm gonna show mad love to whoever does," Carr said. "We've gotta go harder and bring our A-game."
The team placed last in Friday's bout, but members are looking forward to their next match March 2.
Until then, they'll refine their thoughts and words, practice delivery and take what they've learned back to their relationships and homes in Austin.
"The kids come back [from LTAB] and they're more open," said Anne Gottlieb, assistant director at the Austin Career Education center. "[Austin] is a neighborhood in need, but there are also these pockets of amazing things happening."
The West Side Warriors' next match will be Friday, March 2 at the Chicago Cultural Center, 78 E. Washington St., Room 2, at 12 p.m.