Roman Morrow believes Austin should get back to the kind of old-fashioned values that were instilled in him as a child growing up in the West Side neighborhood.
"People should be treated with respect. Everyone should be willing to work together. That's how things are going to get done here," the 34-year-old Morrow recently told a lunchtime group of residents of Corcoran Place Apartments. "Everyone can help build community."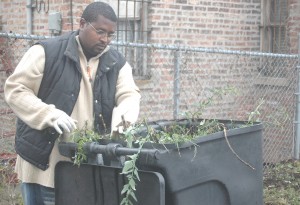 A lot is absent in Austin, he says –  a state-of-the-art community center for young people; job training and positions for ex-offenders returning to the neighborhood; etiquette classes to teach teens how to respect their elders; stronger programs for seniors; better curfew enforcement; free festivals that can bind the neighborhood together.
Other 29th Ward Candidates
Jill R. Bush (story published Sunday)
Mary Russell Gardner (story published Monday)
Deborah L. Graham (story published Tuesday)
C B Johnson (story published Wednesday)
Oddis "O.J." Johnson (story published Thursday)
Beverly D. Rogers (declined to be interviewed)
Thomas E. Simmons (story coming Saturday)
As he ticks off his long list of Austin's needs, Morrow acknowledges there's a challenge in paying for it all. Budgets are tight and the list of priorities great. Community groups and the Chicago Park District could step up to help set up and operate a center for youngsters, he said. Grants, state funds and TIF money can help pay for job training. Local businesses can sponsor festivals, one of which could focus on the history and heritage of Austin.
He suggests that Illinois state troopers and the Cook County Sheriff's Police work with Chicago cops to enforce curfews and keep the streets clear of crime, a plan proposed several years ago by former Gov. Rod Blagojevich. The Community Alternative Policing Strategy should be retained to help out as well, Morrow says, referring to recent reductions in the CAPS program.
And parents should be warned and then fined if their children are out past the deadline. The media should broadcast alerts on the start of curfew.
"We should be lobbying for this money. They (the state and county) can find it somewhere," he said. "This will help save lives. We need to figure out a way to do this collectively."
He said he would serve only three terms in the Chicago City Council if he doesn't accomplish enough for the 29th Ward. "If not, I deserve to be out of there."
This is Morrow's first run for public office. He quit his position as a news archivist for WLS-TV last year to prepare for it; he's been living off his savings.
Morrow graduated from Brian Piccolo Elementary Specialty School in 1991 and Orr Academy High School in 1995, earninga bachelor's degree in communications from Columbia College in 1999.
As of Dec. 31, Morrow's campaign had reported receiving about $2,400 in contributions, including $1,282 that he donated himself. He received nearly $2,000 in in-kind contributions for the design of his web site, posters, flyers and other campaign material.
Hear, in his own words, what Roman Morrow would do for the 29th Ward
Campaign office: 5808 W. Iowa St.
Phone: 312-618-5665
E-mail: RomanMorrowFor29thWard@gmail.com
Campaign finance report filed with the Illinois State Board of Elections (July 1, 2010 – Dec. 31, 2010)
Statement of financial interests
Questionnaires completed for WLS-TV, Chicago Tribune and AustinTalks