|
Students from Legal Prep Charter Academies performed, and state Rep. La Shawn Ford spoke on a panel of lawmakers.
|
Despite protests by Chicagoans who travelled to Springfield to make their voices heard, the measure was approved by the Illinois House Executive Committee. The House and Senate will still have to vote before it can be signed into law by Gov. Pat Quinn.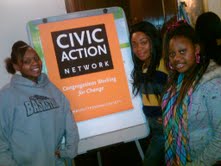 |
The Community Renewal Society organized a gathering earlier this month with Gladyse Taylor, the new director of the Illinois Department of Corrections, to discuss how to make it easier for the kids to visit their mom or dad in prison and maintain a relationship.