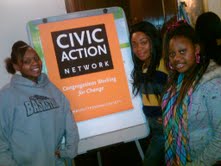 Kiana Booker, 17, won't ever forget her mother's death in 1997.
"Me and my sisters woke up and saw our mom murdered, killed by our dad," said Kiana.
Kiana and her five sisters have been without both parents since she was 3. All are being raised by their grandmother.
The Booker sisters are just six of possibly thousands of Illinois children with an incarcerated parent. Only three states require there to be a count of children with a parent in prison – Illinois is not one of them – so there aren't concrete numbers. But groups that work with families in the Austin, Humboldt Park, Garfield, Englewood and North Lawndale neighborhoods say West Side children are disproportionately affected.
The Illinois Department of Corrections recently reported there are over 45,000 inmates in its 28 prisons.
The alarming percentage of children living without their incarcerated parents encouraged the Community Renewal Society and the Illinois Department of Corrections to work together to improve the conditions under which children can visit their parents.
Earlier this month, the Community Renewal Society hosted a meeting at First Baptist Congregational Church to meet with Gladyse Taylor, whom Gov. Pat Quin named last month to be  the new head of the Illinois Department of Corrections. The group wanted to follow up on promises Taylor's predecessor, Michael Randle, made to ensure certain rights for children when they visit their incarcerated parents.
"We value our partnership," said Rev. Calvin Morris, who's executive director of the Community Renewal Society.
The Community Renewal Society, a progressive faith-based organization focused on breaking down race and class barriers, has been working the last several years to make it easier for children to remain connected to their imprisoned parents. Their work has been spotlighted by the Chicago Reporter and Catalyst.
It's critical these children not be forgotten because without intervention, as many as 70 percent are likely to end up in the criminal justice system themselves, according to a report released by the Community Renewal Society.
"We're honored to have the Illinois Department of Corrections working with us on such a necessary project," said Alex Wiesendanger, lead organizer of the Community Renewal Society. The Civic Action Network, an organization consisting of about 70 church congregations fighting for social justice, is the organizing arm of the Community Renewal Society.
This month's meeting resembled a Sunday church service with passionate speeches and songs. The event began with prayer; one was said on behalf of all children living without their incarcerated parents. During the meeting, several key promises made by the previous head of the state's prison system were pointed out, and some agreement was reached.
"If you want to protect society, then let's protect the hearts of these innocent children," said prisons director Taylor.
Shayla Booker, the youngest of the six Booker sisters, says she has not completely forgiven her father and still struggles with seeing him during visits. She was just 5 months old when her mom died.
"Although it is hard to see him there in prison like that, he is my dad," said Shayla. "I'm confused on how to respond to him. He took my mom, and she won't get to see me graduate from high school, go to prom, get married. That makes me sad and disappointed."
The Community Renewal Society said it's critical for Kiana, Shayla and other children to be able to visit their parents in prison.
In addition to committing to certain promises, Taylor also announced that the governor has committed to meeting with prison officials before Thanksgiving about how to best help the children of incarcerated parents.
"This is not about the inmates but their children," said Edna Ford, Kiana and Shayla's grandmother. "Visits are timely and costly, and there has to be a better system that can help families get through this."
Ford says she and her grandchildren were the first to experience the "No Limit" rule prison officials implemented years ago that stopped the practice of limiting the number of children who could visit their incarcerated parent at one time.
"I was able to take all six of my grandchildren to see their incarcerated dad who they had not seen in 15 years," Ford said.
Ford, a resident of Beach Park, says her son George Booker is in Hill Correctional Center in Galesburg for the murder of 23-year-old Roponza Booker.
"It has been a challenge to help my granddaughters get past this," said Ford. "It's been a long road, but we were able to get the Illinois Department of Corrections to see how important the connection with the parent and child is, and that these children still had part of that parent's identity that has gotten lost."
Here's what Taylor agreed to at the meeting:
*No limit to the number of children who can visit at one time.
*Making changes to the "lockdown"procedure so children won't be prevented from visiting their incarcerated parent.
*Video visitation in all facilities. (Taylor agreed as long as there's no problem with security and confidentiality.)
*Move toward contact visits that will allow children to have physical contact with their incarcerated parent.
*Transformation of visitation spaces making them more family friendly.
*Programs for families before incarcerated parents are released.
*Quarterly meetings with Community Renewal Society and other groups that represent families.
*Sign a contract for $30,000 to help improve the transportation of families traveling far distances to visit incarcerated parents. (Taylor said this depends on funding, which is difficult given the economy.)
austintalks.org@gmail.com