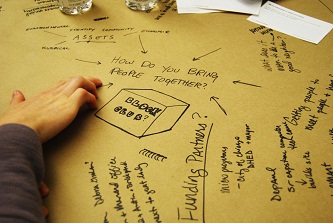 Residents, architects and designers agreed Austin needs to become more self-sufficient at a recent event held to generate ideas about how to do just that.
The Sweet Homes Chicago creative workshop, held at the Austin Public Library Dec. 15, was hosted by Design Makes Change, a group that has thrown two contests for participants to dream up solutions for problems with urban development.
This year's contest asked participants to design a self-sufficient Austin. First-place winner Carolyn So presented her idea at the workshop, followed by three other stand-out entries.
So's Three Interventions is a three-part development model that proposes adding small, corner grocery stores across the neighborhood, which she said would help eliminate Austin's food deserts.
Christina Parks, a third-generation Austin resident, said the community needs a fix for its food deserts–areas that lack easy access to fresh, healthy food. She said she sees too many fast food restaurants in the community, and young children in Austin could benefit from a "more diverse" diet.
Parts two and three of So's model propose using school buildings for programs outside of the school day and adding bus tracking systems to local businesses as a way to draw customers in, two ideas she said would engage members of the community.
Architect Carmen Vidal-Hallett and her son Gabriel proposed creating an arts district off the Cicero Green Line stop to help beautify the neighborhood and give local artists a place to display their work. They both said that putting the district near a CTA line would attract people who may not even live in Austin.
Two other participants created an idea for an Austin neighborhood website. They also proposed convincing business leaders or community organizers, or people who could inspire activity, to live in cheap, foreclosed homes in the area.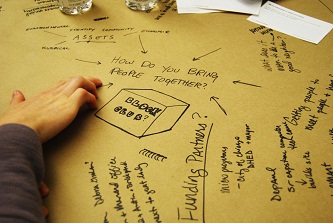 Attendees busily jotted suggestions down on paper taped to tables, phrasing ideas that told designers what works and what should change in their plans. One resident, who liked So's ideas best, said he's skeptical of the project's future.
"Sometimes, these plans go into someone's drawer," said William Smiljanich, an Austin resident. "Will they actually be used?"
Ideas need someone who will push them through – like an interested developer or alderman – said Siobahn Gregory, co-founder of Design Makes Change. Gregory said this might be difficult, but at least the community can now spread discussion to change Austin.
No aldermen were present at the meeting. Gregory said Ald. Deborah Graham (29th) committed to attending but may have been at late-Rev. Flowers' funeral. She said Austin's other three aldermen – Emma Mitts (37th), Jason Ervin (28th) and Michael Chandler (24th)  – did not respond to her invitation.
So, who was trained in architecture, said she is still trying to build contacts and find out who could help push the project through, something she's thought about even before the competition.
As the winner, she will receive $2,000 in project seed money and a recommendation of professional assistance to help further develop and implement her design solution, according to the contest's outline on its website.
"I've been thinking about ideas for a long time," So said. "(In Austin) there's foreclosure, high unemployment, the whole economic gap between here and the Loop. All (my ideas) involve existing assets, existing school buildings and existing bus routes."
In fact, all plans suggested reusing existing buildings, and an urban researcher thought this was one of the characteristics of each competition entry.
"They're working with what's here," said Mario Longoni, urban research manager for environment, culture and conservation at the Field Museum, who attended the meeting. "They're trying to highlight the assets."
Photo by Wendy Uhlman