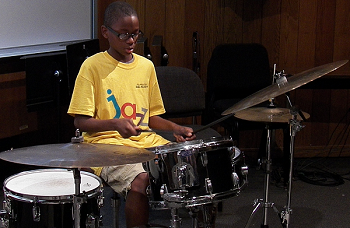 About a dozen Austin children took part in the fourth annual Chicago Jazz Philharmonic/University of Illinois at Chicago's jazz academy last month.
July 27 marked the end of the program with a finale concert including live jazz music from all 150 academy students.
The students met at UIC's department of theater and music for two weeks developing skills and knowledge about music.
They also learned about music performance through participation in various ensembles, such as jazz band, drum line, hand chimes and strings. Additional courses included jazz aesthetics, instrument technique, music theory, jazz history and improvisation.
In addition to music course, students saw performances from Chicago Catz, Fifth House Ensemble, New-Trad Octet, EveryPeople Workshop and Sones de Mexico.
"The Jazz Academy program assists in breaking down students' perceptions that they face barriers to higher education," wrote Birdie Soti, executive director of Chicago Jazz Philharmonic in a press release. "They also learn life skills like goal setting, time management, teamwork, communication, and positive interaction with their peers."
Sylvannah Batchelor, a sixth grader at Horatio May Community Academy, said the best part of the program is when they have special guests. She said she liked the Chicago Catz most.
"Everyone got to come down and dance," Sylvannah said.
Sylvannah, who's played saxophone for two years, said she learned how to use improvisation and learned new notes while in the program.
She said she loves playing saxophone because of the way it sounds.
"It's really fun," Batchelor said.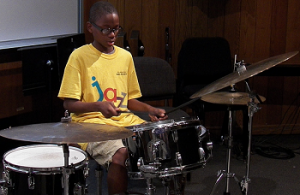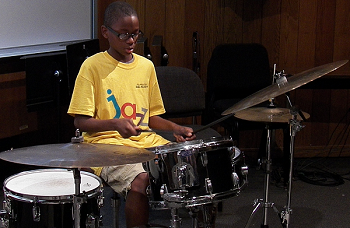 Drummer of seven years, Travis Feazel, 13, a student at May, also enjoyed Chicago Catz.
"They had everyone standing up and dancing and stuff, and the music was good," he said.
The Chicago Jazz Philharmonic/UIC Jazz Academy aims to make children in underserved communities become interested in pursing higher education and preserve the jazz genre for the next generation. The academy was also created to address the lack of sustained music education in the public school system.
Drummer Ernie Adams, saxophonist Ari Brown, bassist Stewart Miller, and jazz trumpeter, Emmy Award winning composer and Chicago Jazz Philharmonic Artistic Director, Orbert Davis, taught the academy. Davis is also assistant professor of music at UIC.
Alexis Hiraldo, who attended May but is going to be a freshman in high school this fall, plays the drums. At camp she said she enjoyed learning new notes and being loud, because she doesn't have a drum kit at home.
"I really liked the jam session," Hiraldo said. "They have everyone come and bring their instruments, and everyone jams out right before we go home."
Northwest Middle School sixth grader Christopher Sanchez has played the drums for the past 10 years.
He said he enjoys drums because "you can feel the music and dance to it."
"I learned how to play more styles of music," Sanchez said. "I learned how to play in different times. For example 6/8 and 7/4."
Click here to view a short video about the program.
*Photo: Student Travis Feazel playing drums.
Here are the other participating Austin students:
Benjamin Dobbins
Adrian Gonzalez
Isaias Gonzalez
Lakeshia Hiraldo
Lateak Hunt
Shmyria Middleton
Christopher Sanchez
Kayla Strozier
Anthony Rayford
Damani Tillis
Raven Williams