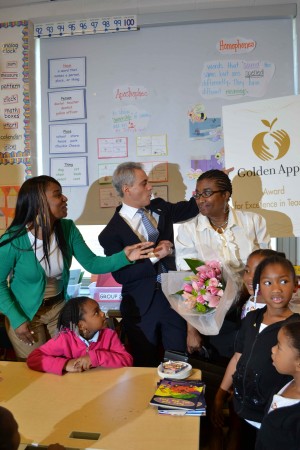 Mayor Rahm Emanuel made a surprise visit to Depriest Elementary School Thursday morning to deliver a Golden Apple Award honoring exceptional teaching to first-grade instructor Monique Blakes.
Blakes is one out of three Chicago Public School teachers receiving the award, which recognizes outstanding educators. Seven more teachers throughout the state received the 2012 award.
In addition to lifetime membership of the Golden Apple Academy of Educators, winners receive a $3,000 cash award and a paid sabbatical at Northwestern University where recipients will design a group seminar series for other outstanding contributors to the field of education.
"Here's something special," Emanuel said to Blakes' first-grade students at the school, located at 139 S. Parkside Ave. "This shows, in my view, something very, very important. You guys have an unique opportunity, because you have the best teacher. She's been recognized as No. 1."
An emotional Blakes said she was honored to accept the award, but ultimately, it's for the children.
"They are the ones who keep me going," she said.
Emanuel said the school's accountable principal, motivated teachers and involved parents are the foundation for the school's success.
"In the last two years, this school has seen a 20 point jump in its tests, and I am so impressed," he said.
Dominic Belmonte, president and CEO of the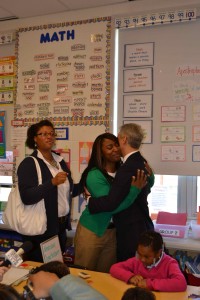 began with 600 teachers. Those teachers were then winnowed down to 32.
"Over 18 people in our organization examined the applications and reports and came up with the 10 we have today, and Monique is one of them," he said. "It's obvious that Monique is a rising star in CPS, and we're just happy to acknowledge that, and perhaps accelerate that so that she can even more influence."
Emanuel told Blakes he was proud of her.
"I know we surprised you," he said. "The mayor's allowed to do that periodically."
Blakes said she had no idea the mayor or her extended family would be delivering the award.
"That was just, oh my goodness, a shock," she said.
To make the final award selections, Golden Apple sent out a team of two educators, a Golden Apple fellow and a member of the selection committee to observe the teachers' classrooms.
Gariselle Diaz-Gemmati, the Golden Apple fellow who observed Blakes' classroom, said "there was no doubt."
"We walked out of here saying, 'Oh yeah, she's a Golden Apple fellow.'"
Diaz-Gemmati said Blakes integrates technology into her first-grade classroom, but the day Golden Apple came to visit, the technology wasn't working.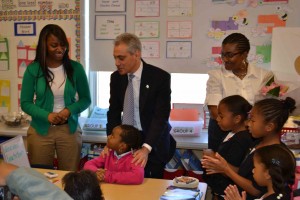 "We didn't know it," she said. "We as observers saw that there was a group of kids reading, doing their centers in science, reading, and some were doing audio."
She said the mark of a great teacher is to "make herself not needed."
"If she wasn't in here, the class would have gone on," Diaz-Gemmati said. "The kids went on to their centers. They did their reading. They knew exactly what to do."
Blakes took this group of "little people and made them independent learners," Diaz Gemmati said.
"That's what education is all about."
Blakes' father, Jerry "JD" Blakes, said he was "beyond words" to see his daughter receive the award.
"I'm very proud of her," he said.
Rosalind Kline-Thomas of Michele Clark Magnet High School won the award in 2010. Click here to read that story.