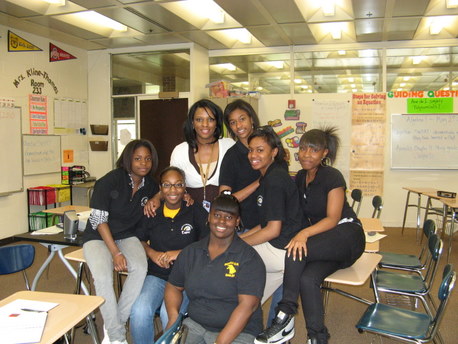 Michele Clark Magnet High School teacher Rosalind Kline-Thomas may have recently won a prestigious Golden Apple Award for teaching algebra, but her students say they're learning much more than math.  Kline-Thomas is giving her students at the Austin high school the necessary tools to succeed in life.
After spending 15 years as a corporate buyer, Kline-Thomas' life took a very different turn after losing her job.  She decided to pursue her master's degree in education and found an alternative certification program offered through Northwestern University.  At the same time she was accepted into the program, she was offered a position as a manager of a manufacturing facility.
For some people, the decision would've been easy.  Accept a lucrative offer in an ultra-competitive job market or sacrifice a salary to return to the rigors of school?  Kline-Thomas describes the moment as a crossroads in her life.
"I had to do a lot of soul searching," said Kline-Thomas. "But the bottom line was that at this point of my life it was more about following my passion than following the dollars."
She hasn't regretted her decision for one minute, Kline-Thomas said.  Her students, whom she affectionately refers to as her "babies," are also glad she decided to teach.
"You know that she really, really cares," said freshman Dominque Williams.  "She goes over her limit trying to make sure everybody is learning."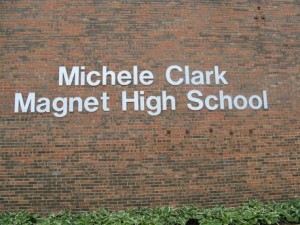 Even though this is only her second year of teaching, Kline-Thomas was one of 10 winners selected from a pool of 562 nominees. While she hoped to one day be chosen, Kline-Thomas said she had no idea it would happen so early in her teaching career.
"I remember on orientation day people from the Golden Apple Foundation talking to us about their program, and I was thinking, 'One day I would love to be a part of that,'" said Kline-Thomas.  "But I was thinking down the road, maybe  seven to 10 years; imagine my surprise when I was nominated."
With determination and support of her husband and two 6- and 9-year-old daughters, Kline-Thomas pursued her passion for teaching.
"I'm not teaching math," said Kline-Thomas.  "I'm teaching kids how to be productive adults."
Every student can learn, Kline-Thomas said, but the challenge lies in getting to really know the students and earning their trust.
"I found that sometimes kids can't learn because there are 100 other things going on in their lives," said Kline-Thomas. "Sometimes they don't see the magnitude of how this will affect them in the future. We have to filling the gap and just push and push and push."
If she were to sum up her teacher in one word, freshman Janiquie Johnson says Kline-Thomas is "encouraging."
Kline-Thomas uses interactive, hand-on exercises to engage her students. One recent day, they played Jeopardy in preparation for a test on polynomials. And Kline-Thomas is gearing up for a casino day where the students can use their math skills.
Several of Kline-Thomas' freshman algebra students choose to spend recess in the classroom, working on homework or simply chatting with their favorite teacher.
Kline-Thomas gives her cell phone number to her students and is there to talk with them about issues both inside and outside the classroom.
Student Tamisha Davidson, who wants to be a teacher, said Kline-Thomas is a role model.
Kline-Thomas treats all of her students equally and promotes a supportive team-atmosphere, said Andrea Powell, who suddenly lights up when describing her teacher.
"She doesn't show favoritism, and if she feels like someone needs more help, she'll get tutors," said Powell. "She also gets us to a point where we can respect each other and help each other."
Even though the school year will soon end and these students will leave Kline-Thomas' classroom, many of them said they plan to return to visit.
And Kline-Thomas has no intention of leaving Michele Clark, she said, where she applied while attending a career fair. She was offered a position and decided to take the job without looking anywhere else.
"I like the area and the reputation of the school," said Kline-Thomas. "So I applied hoping they would call me, and they did."
Golden Apple winners receive free tuition for six months at Northwestern University and $3,000. Kline-Thomas said she is not looking forward to being away from her students for an entire semester and plans to  drop in to check on them.
But she said she's excited about the possibility of studying new techniques of teaching mathematics to students in urban areas, tying in their life experiences. And the award money will go back into the classroom, she said, toward a laptop with better technology.
One valuable lesson Kline-Thomas said she could not get from any course came from her students: Things are not always as they seem.
When her students are not paying attention or doing their work, that doesn't mean they don't care about their grades, Kline-Thomas said; there is usually something else going on in their lives.
"So I hope with what they've taught me, I can be the kind of teacher to help them to put first things first and be able to, at some point, realize what's important and rise above their circumstances," said Kline-Thomas.  "That's what makes them leaders of tomorrow."
The Golden Apple Awards ceremony will air on WTTW Oct. 15.
austintalks.org@gmail.com