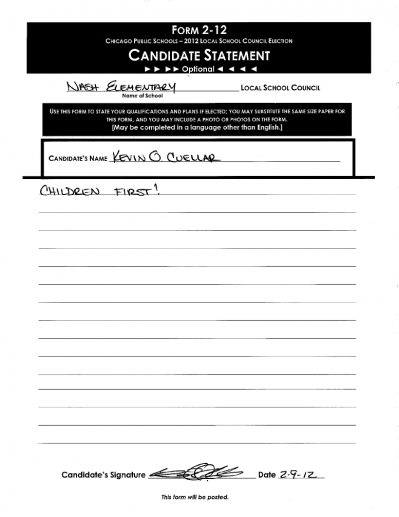 The next elected Local School Council at Henry H. Nash Elementary School will have to address the school's low enrollment, said its LSC coordinator.
Nash LSC coordinator Joanne Walker said the No. 1 issue at the school is low enrollment. She added the next LSC, which will be elected next week, will have an obligation to recruit students.
The school has the capacity to hold up to 1,600 students, but it typically has an enrollment of only 400 students, she said.
"We're at 390 (students)," she said.
Walker said the current LSC is working to distribute brochures throughout the neighborhood to inform community members about the school in the hopes that "come September, our enrollment can soar."
The school council, which typically meets once a month, consists of six elected parents; two community representatives; two teachers; one school staff member who is not a teacher; and the principal.
Just enough candidates have applied for all positions besides the two community representative slots. Three candidates are looking to be reelected to the council to fill those spots: current LSC co-chair Priscilla Young; Gloria Moore, who's served on the LSC for 10 years; and Barbara Butler, the LSC chairwoman.
Six parents are running for the six open spots on the council: Tammy Alexander, Jacqueline Williams, Araceli Salazar, Mercie Portis, Barbara Hollins and Brittany Garner.
Alexander, who's up for re-election, completed the LSC application's optional candidate statement that was posted on a bulletin board inside the school. She wrote that she is running for the position to learn more about the community, school and students.
"I want to have a close relationship with the student(s), so that if it's ever a time they need me, I will try my best to make myself available," she wrote.
Williams, another parent candidate up for re-election, wrote in her candidate statement that she attended Nash from fourth grade until high school. She said if re-elected, she would fight for positive changes at Nash and against Chicago Public School policies that would negatively impact the school.
"I would like to have the opportunity to fight for my school and our children," she wrote.
A third parent candidate, Portis, said as a member of Nash's LSC, she would give as much parent involvement as needed, "because that's what our schools are lacking."
"I plan to be a dependent, reliable and sufficient member of the LSC, making sure that all my duties as a parent of the board are carried out to fullest of my ability," Portis wrote.
Kevin Cuellar is the only candidate running for the non-teacher position, and teachers Nathan Clark and Thomas Harris are also on the ticket for reelection.
Cuellar's candidate statement read, "Children first!"
Elections for Nash's LSC will be held April 18 in the Harriet Tubman auditorium located in the school's main building. Any legally registered member of the community who lives in the attendance boundaries can vote. It's required that a voter bring two forms of identification that include a photo ID and address.
See optional candidate statements below: