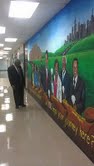 Frederick Douglass Academy High School Principal Debra Crump will retire at the end of the school year, but she's leaving behind a legacy.
Crump announced Saturday morning that the 2011-2012 school year will be her last. The news came the same day she unveiled the school's new mural – its theme is based on Douglass' motto: "Jewel of the West Side, where failure is not an option."
The Rev. Dale Kelly of Clair Christian United Methodist Church, 3956 W. 14th St., who also works as a coach at Douglass, praised Crump for her leadership.
"She'd be (at Douglass) at seven in the morning, and she'd leave at 10 at night," Kelly said.
"Because I saw her work so hard, I tried to work even harder. And that's truly a blessing."
Crump's retirement announcement comes a year after Chicago Public Schools wanted to fire her due to low test scores and graduation rates at Douglass, AustinTalks reported last year. Officials decided to keep Crump, who's been at the school about a decade.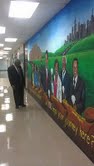 The mural – created by South Side visual and performing artist Jerrold Anderson, also known as Just Flo – features seven prominent African-American leaders and educators from Chicago. Most of the leaders are holding diamonds, which represent the school.
President Barack Obama is the central focus of the painted mural, which is located on a wall inside the building's first floor by the main entrance.
To Obama's left stands Sheree Blakemore, a counselor at Douglass for the past 15 years and program manager at Youth Guidance – an organization that works with at-risk youth in schools.
Blakemore said she sees herself as a "seed-dropper" of wisdom and guidance at Douglass.
"I've seen kids come and go," Blakemore said at Saturday's ceremony.
"It's a great thing to see a child come back, that they are doing well and that you may have had something to do with that."
To her left on the mural is Juanita Florence, a security officer at Douglass for the last 20 years, and then Mildred Brackett, a West Side resident who has volunteered at the school for more than 10 years.
To Obama's right stands Crump, who has served as the principal at Douglass since 1999. U.S. Rep. Danny Davis (7th) is to Crump's right.
Last on the mural is Kenneth Morris Jr., founder and president of the Frederick Douglass Family Foundation, which works to educate students across the country about the history of slavery in the U.S., as well as modern-day slavery such as human trafficking.
Morris is Frederick Douglass' great-great-great grandson. And he's the great-great grandson of Booker T. Washington.
"What are the odds of that?" Crump asked the audience of about 40.
Morris said when he learned Crump had put together the mural, he felt honored.
"Tears started streaming down my face," he said.
Morris' grandfather, Frederick Douglass III, was Douglass' great-grandson. His grandmother, Nettie Hancock Washington, was Booker T. Washington's granddaughter. They met each other in Tuskegee, Ala., in 1940, Morris said.
"They were walking across campus and literally bumped into each other," he said.
The two didn't know that they both ascended from historic families.
"It was love at first site, and they wound up getting married three months later," Morris said.
Morris' mother was the first to unite the blood lines. Morris is an only child, and the only male with both blood lines.
At the end of his speech, Morris called the mural "beautiful."
He added, "Thank you for making my hair look good."
"Sometimes when I'm on the road a bit, my hair starts to look like Frederick Douglass."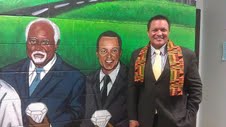 The Rev. Kelly encouraged the students in the audience to follow in the footsteps of the individuals painted on the wall.
Kelly made a reference to basketball player Charles Barkley, who once said he doesn't consider himself a role model for the youth.
"These are your role models," Kelly said, motioning toward Morris, Brackett, Blakemore, Davis and Crump sitting at the front of the room.
"Basketball players are not your role models … your role models are sitting right here."