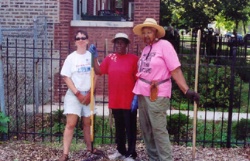 When Malcolm Crawford's garden was falling apart, the first person to come to the rescue was Mary Peery, an Austin resident with just the experience and knowledge Crawford and the Austin African American Business Networking Association needed.
Peery, the president and founder of the Austin Green Team, has been creating and maintaining community gardens on the West Side for 22 years. When it's completed, the Bailey Spann Memorial Garden will be the seventh Peery has helped create in the neighborhood.
"Mary Peery, she is well into her 80s, and she continues to do work; when our garden was falling apart, she came in," Crawford said. "She was the first person there to help us to re-mulch and everything."
For her work at Bailey Spann and for her two-plus decades of creating green spaces in Austin, Peery will be honored Friday with the Delores McCain Community Service Award, named after longtime Austin Weekly News reporter Delores McCain, who died in September 2010.
The recognition will be part of the Austin African American Business Networking Association's eighth annual Kwanzaa Celebration that will be held at the Sankofa Cultural Arts and Business Center.
The celebration will honor also honor Chicago Police Department First Deputy Al Wysinger and businesswoman Kelley Moseley, the founder of K-Fleye Designs. Tickets for the event, which are still available, will raise money for the Bailey Spann garden.
The Kwanzaa celebration will be a fun way for Austin residents to celebrate the end of a tough year, said Crawford, AABNA's executive director.
"It's a lot of hugging and a lot of hellos," Crawford said. "It's a lot of fun."
Crawford said he and his executive committee were inspired to honor McCain with an award in her name because of the good she had done in the community and the assistance she gave to the AAABNA.
"She was always trying to help somebody," Crawford said. "She would build people up."
McCain worked for 11 years at the Austin Weekly News chronicling and celebrating Austin, and Peery was a close friend and ally of hers.
"Oh yes, that's my girl," Peery said.
Peery's group, the Austin Green Team, began in the 600 block of North Latrobe in 1989 when a dangerous, abandoned apartment building inspired her to take action.
After Peery's own block club had  tried in vain to board up the building at Huron and Latrobe streets and keep it free of squatters and drug dealers, the rape of a 14-year-old girl in the abandoned apartment complex drove Peery to more urgent action.
"That really got me," Peery said. "I just couldn't take it anymore."
After several trips downtown to the Daley Center, to then-Ald. Percy Giles' office and a final plea to the non-profit Openlands, Peery finally succeeded in getting the building torn down.
That's when her work really began.
"They just sinked it in the ground, they just put it down, they just left it all. And all this stuff was left there. So now what happened, I said, 'Now I got the building down, but what am I going to do with this vacant lot?'" Peery remembered.
Left alone, the vacant lot was an eyesore and a magnet for trash, abandoned cars and the kind of criminal activity Peery had been trying to prevent.
After another trip downtown and some haggling with a city clerk, Peery got permission to build a community garden in the spot.
Peery, her grandchildren and several other mothers and grandmothers removed all the debris by hand.
"I had no lifters, I had none of the bobcats or anything, it was just by hand. We worked to get out of there," she said.
The spring after she had cleared the land, Peery got a donation from a woman in Wilmette to put up a fence and began planting trees and flowers.
"I named it paradise, and it's still named paradise," she said.
Thanks to her work, Peery has three other commendations: two from Mayor Richard J. Daley and one from Mayor Richard M. Daley. But she said receiving an award named after her friend McCain will be special.
The Bailey Spann garden is named in part after Peery's deceased sister Leola Spann, and there's a tree named in Peery's honor.
She has "big things" in mind for the memorial garden.
"[Crawford] really wants to do great things with it," Peery said. "Together, we will do it."
For tickets or more information, call Malcolm Crawford (chair) at (773) 626-4497 or Rickie P. Brown Sr. (co-chair) at 312-718-9296, or e-mail aaabna@yahoo.com. Doors open at 5:30 p.m. Dec. 30 and the event begins at 6:30 p.m.