Maybe it's the hardscrabble, lifelong Chicagoan in him. Maybe it's the fact he's managed a bar for more than two decades. Whatever the cause, one thing is for sure: William Siegmund doesn't mince words.
"It should have been an HBO documentary," said Siegmund, sitting in a sweatshirt, jeans and socks in the front room of his Washington Boulevard home. He was describing his experiences collecting signatures to run for alderman of the 28th Ward.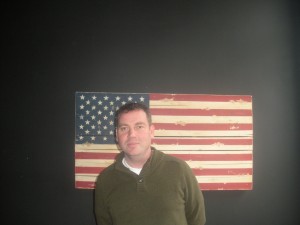 As he went door to door, he said, many residents were skeptical, dismissive or downright aggressive that a white man would ask for their vote in the mostly African-American but growing Hispanic ward.
But then, he said, he also had interactions like this one.
"I was out getting signatures in front of a school. A woman came up to me and said, 'Excuse me, did you say you were running against Ed Smith?" Siegmund recalled. "I thought I was going to get blasted."
But he didn't. "She said, 'I'll sign that. I don't know what that man's been doing for (27) years.'"
Ed Smith won't be on the Feb. 22 ballot, but his longtime aide and newly appointed replacement – Jason Ervin – will be. Siegmund says that resident's hunger for change is the reason he's running – to draw attention to the 28th Ward and its need for new leadership.
Other 28th Ward Candidates
"History is against me," Siegmund said. "But it's a weird election (year). Anything can happen."
A chatty, opinionated father of two, Siegmund has lived in Garfield Park for nine years. He was raised in Rogers Park and lived in Wicker Park for a time before settling into his first-floor condominium with his wife Marcy, 7-year-old son Otto and 4-year-old daughter Addison.
Friends describe the 43-year-old as down to earth, a history buff who always gets the right answers on Jeopardy and stays calm when a situation arises at work.
He also has a sarcastic streak: asked by the Chicago Tribune's editorial board what they might find surprising about him, he wrote, "That I still subscribe to the Trib after you took it and dumbed it down. Please restore sunday (sic) magazine section."
Many of his other Tribune responses are short, lack detail or are incomplete. Siegmund did not respond to a Chicago Sun-Times questionnaire, nor, he said, has he responded to other endorsement forms he's received.
While many candidates tout long lists of civic involvements, Siegmund's resume in that area is relatively sparse. He says he's active with his son's Cub Scouts troop and his children's CPS Suder Montessori school, and has participated in veterans' fundraisers and parks clean-ups. He argues that involvement in community organizations can affect a politician's fairness.
"I don't like anyone who's attached in politics," he said. "I think a lot of people get involved in organizations, and it affects their decisions."
For the past 23 years, Siegmund has managed a Downtown bar, one that his friends and co-workers describe as a "hole in the wall," but also a "movers-and-shakers" bar that attracts a diverse crowd of lawyers and politicians.
Siegmund asked AustinTalks to not name the establishment, concerned that as a candidate, drawing attention to his workplace could invite politically motivated inspections of the bar.
"I know how these things work," he said.
This is Seigmund's second shot at running for alderman. He tried to get on the ballot four years ago but was removed in the objections process when his financial disclosure form "mysteriously got lost" at City Hall, he said.
In both elections, Siegmund said he was inspired to run by what he sees as a lack of progress in the ward, particularly in regard to crime, too few businesses, poorly maintained streets and run-down parks. His campaign Web site – under a heading "What's wrong with the 28th Ward?" – features a series of photographs of broken pavement and overflowing trash cans.
"The entire neighborhood has been kind of neglected," he said. "No businesses have opened over here, everything keeps closing. Just nothing has been done."
Siegmund says the ward's bountiful public transportation – with service by the CTA's Blue and Green lines – should be played up to attract new residents and businesses, and the former Madison Street corridor should be revived to its former life as a retail hotspot.
Bringing a city festival to Garfield Park would be one way to increase the community's visibility, he said.
Like other 28th Ward residents, Siegmund can spout off a laundry list of run-ins he's had with criminals over the years: men selling drugs out of Cheetos bags, joy-riding teenagers smashing into his parked car, the frequent sound of gunshots. Each time he calls the police, he said, he is disappointed and frustrated by their slow response.
So Siegmund says he would promote new strategies to target crime, such as small, mobile police stations spread throughout the ward.
"You have this vision of a beat officer knowing everybody. I've never seen a police officer walk down my street once in my life," he said, motioning out his window at Washington Boulevard. "Why can't they come up with a different strategy?"
Siegmund also believes that for the ward to improve, it should gentrify.
"I don't want to force anybody out, but the fact is, if you want the ward to change you need middle-class people," he said, "people willing to make an investment in their neighborhood with their families."
Siegmund's most recent campaign filing shows he raised $1,100, including a $750 contribution from his wife. He said he plans to raise about $10,000, mainly from people he knows. He's campaigning on a promise that, if elected, he will donate half his approximately $110,000 aldermanic salary to schools in the ward.
Restaurant consultant Scott Reading described his downstairs neighbor as a "good guy" and a "great, loyal friend." A Siegmund win on Feb. 22 would be "a nice surprise," he said.
"I think his running is more of a 'heads-up, we need change,'" Reading said. "(Siegmund is saying,) 'I don't care if I win, I just want someone else to run because we need fresh blood. We need change, we need something done.'"
Hear, in his own words, what William Siegmund would do for the 28th Ward
Phone: Not listed
E-mail: wtsieg@28thward.com
Campaign finance report filed with the Illinois State Board of Elections (July 1, 2010 – Dec. 31, 2010)
Application submitted to finish Ald. Ed Smith's term (starts on page 63)