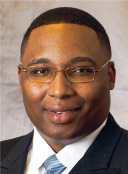 The clock has ticked past 5 on a cold Friday evening in January, but the 28th Ward office shows no sign of closing. Behind the counter in the dim lobby, former Ald. Ed Smith, dressed in his overcoat, flips through a pile of mail, opening letters and event announcements and handing them off to a receptionist with instructions.
"Once an alderman, always an alderman," Smith says, only briefly looking up from his stack of mail.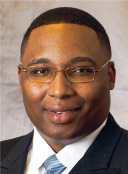 The current alderman, Jason Ervin, sits in the next room at a makeshift desk set up at the head of a conference room table. Portable cubicle walls separate his temporary office from the permanent, closed-door ones around the perimeter of the room. There's some reshuffling going on at the ward office, Ervin explains, serious and well-spoken, and as the "low man on the totem pole," this conference table is home for now.
"I can work anywhere," says Ervin, 36. "I could work out of my car."
Two days earlier, with Smith's blessing, the former Maywood village manager and longtime Smith aide was appointed alderman – a title that, even after just a few weeks on the job, promises to give Ervin a significant leg up with voters.
Other 28th Ward Candidates
Add to that a hefty war chest, billboards displaying his face throughout Austin and Garfield Park, a lengthy resume, and a long list of endorsements – including the Chicago Federation of Labor, AFSCME, UNITE Here, and a smattering of state and local politicians – and it's hard to deny that Ervin is the candidate to beat.
But that front-runner status comes with drawbacks, and Ervin's biggest political strength – his ties to the former alderman – may also be his weakness. Some vocal detractors, many of whom blame Smith for a lack of progress in his long 27 years in office, are quick to see Ervin as an extension of that reign.
Others have unearthed controversies in Ervin's past – such as how, in 2009, a Fox News reporter caught Ervin checking candidacy petitions for state Rep. Karen Yarbrough during work hours. (Yarbrough's husband is mayor of Maywood; Ervin has served as campaign treasurer for her campaign.) The gaffe landed Ervin a one-day suspension from his village manager job, but he still denies his actions were improper.
"If I'm off of work, I'm off of work," Ervin says. "What I do with my private time is my business."
That chapter aside, Ervin says his work in Maywood sets him apart from his competitors and has prepared him for the task of leading a ward.
"I've been doing this work for a significant amount of time, and I've been doing it well," Ervin says. "I don't have to figure out how a TIF operates – I know that, because I've been a TIF administrator. I don't have to figure out what the city's portion of a sales tax is, because I've done that."
He has also been a volunteer aide to Smith for the past 14 years and was involved in the ward remapping project following the 2000 Census.
"(Ervin) came to me 14 years ago … I took him in, and I saw how bright he was," Smith told Austin Talks shortly after announcing his resignation in late November. "He's become a superb adviser, and he's done it all as a volunteer."
Ervin says his top three priorities for the 28th Ward are job creation, public safety and services for residents. He has visions of playing up the West Side's positioning as a transportation hub to bring new businesses into the ward.
"This is a place where business can work, where business can boom," Ervin said. "We want to, in a sense, restore the pride back on the West Side."
Ervin has released a housing platform, in which he promises to promote the use of TIF money to buy and rehab vacant homes, and support a zoning ordinance that would require developers to set aside about one-third of new constructions and renovations as affordable housing. His education goals included setting a cap on class sizes and working with local school councils to insist on gym classes as well as art and music opportunities in the schools.
One hot-button local issue threatens to put Ervin on shaky ground with some members of the community. Smith angered some residents when he spoke out against building a new Austin high school at the shuttered Brach's candy site at Lake and Cicero.
Ervin says he agrees with his predecessor, and while he would support a new school, it should not be located at a location so ripe for industry.
Ervin raised $27,000 between July 1 and Dec. 31; he said he expects to raise at least $75,000 by the campaign's end, and he listed his campaign budget as $150,000 in a Chicago Sun-Times questionnaire. His largest contribution to date – $10,000 – came from his father, Claudell Ervin, a longtime Chicago police officer who spent much of his career working in Austin. Joseph Ponsetto,Maywood's assistant village manager, gave $1,000, while State Rep. Yarbrough gave $500.
Ervin reports in his expenditures statement that he paid $12,000 during the last cycle for billboards. But Elce Redmond, an activist with the South Austin Coalition, said Ervin remains an unknown to him.
"He's always been sort of the guy in the background of Ed Smith," Redmond said. "All of a sudden he appoints Jason Ervin, and no one knows who the heck he is. I think that's going to be an issue … Visibility doesn't equal votes."
But Malcolm Crawford, head of the Austin African American Business Networking Association, said he supports Ervin, largely because of his business experience. Ervin has worked as a Realtor for his own company, Jason C. Ervin & Associates. Ervin "doesn't do a whole lot of talking," Crawford said, but added that he believes he's committed to the ward.
"Either he is really committed to the community, or he is crazy, because he had a pretty good job in Maywood," Crawford said. "Why else would you come deal with this?"
Campaign office: 261 N. Pulaski Road
Phone: (773) 234-1834
E-mail: info@vote4ervin.com
Campaign finance report filed with the Illinois State Board of Elections (July 1, 2010 – Dec. 31, 2010)
Chicago Sun-Times Questionnaire
AustinTalks Questionnaire and candidate bio
Application submitted to finish Ald. Ed Smith's term (starts on page 44)
Ervin holds town hall meetings
6:30 p.m. Thursday, Feb. 3 at Community Fellowship Baptist Church, 4817 W. Madison St.
6:30 p.m. Tuesday, Feb. 8 at Corinthian Temple C.O.G.I.C., 4540 W. Washington Blvd.
6:30 p.m. Thursday, Feb. 10 at Peoples Church of the Harvest, 3570 W. Fifth Ave.