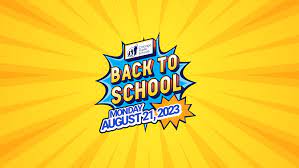 To help promote attendance on Aug. 21, the first day of Chicago Public Schools, the CTA will again offer its "first day, free rides" program for all K-12, Chicago-area students. So will Metra and Pace.
On all three transit services, K-12 students attending any public or private school, as well as an accompanying adult, can ride buses and trains for free on Monday from 5:30 a.m. to 8 p.m.
"We strive to provide Chicagoland students a convenient and affordable means of transportation to and from school, and we want the first day back in the classroom to help set up a successful school year," CTA President Dorval R. Carter Jr. said in a statement. "We are truly grateful to Chicagoland-based Butcher Boy Cooking Oils for keeping this tradition going."
In 2022, the program provided nearly 49,000 free rides to students and their parents or guardians. Since the program's debut in 2011, more than 1.25 million free rides have been provided. The "First Day, Free Rides" program is a highly anticipated back-to-school Chicago tradition.
For the entire academic school year, students riding on the CTA can take advantage of discounted fares of 75 cents on school days, between 5:30 a.m. and 8:30 p.m. Beyond school hours, elementary students, ages 7-11, are eligible for reduced fares of $1.10 for a bus ride and $1.25 for a train ride. Students who are age 12 and older will continue to pay the full fare of $2.25 on buses and $2.50 on trains. Children ages 6 and younger ride free with a fare-paying customer.
For more information about Student Reduced Fare, please visit: www.transitchicago.com/students/
Metra also offers reduced fares for students enrolled in a grade school or high school. When purchasing a ticket, students must present a valid letter of certification from their school (on school stationery) or present a valid school ID (both are valid through the end of the calendar year) bearing the student's name, school name and authorized signature. The student identification card or letter of certification must be displayed along with the ticket to the conductor. Children aged 7-11 are also eligible for reduced fares, and children 7 or under ride free with a fare-paying adult.
For more information, go to: metra.com/fares
Students can get discounted rides by buying the Pace 30-Day reduced fare pass for $30 (unlimited rides all day, every day, regardless of trip purpose and without school-hour restrictions, for 30 days), paying with transit value on their Student Ventra Card for a reduced fare of $1, with free transfers; paying $1.10 in cash (using exact change) after presenting a student ID; or paying a surcharge of $1.10 using Ventra transit value when using the 30-day reduced fare pass on Pace Premium routes. Please note that transfers are not available when paying fares with cash.
For more information, go to www.pacebus.com/student-fare-information
For CPS students heading back to school this week, the Chicago Department of Public Health recommends these healthy steps all families should add to their back-to-school checklists:  
1. Get up to date on your vaccinations. The public health department operates three immunization clinics where children can get school-required and CDC-recommended vaccinations, as well as seasonal flu and COVID-19 vaccines at no cost. Children can also receive no cost immunizations through the Chicago CareVan, a mobile immunization unit in partnership with Blue Cross Blue Shield of Illinois. Learn more at bit.ly/cdph-vaccines 
2. Don't forget about back-to-school forms. Keep your information up to date at school, including emergency contacts and health information. In Illinois, students entering in kindergarten, sixth and ninth grade must provide proof of physical exam.
3. Stay healthy year-round. Set a healthy routine that includes a well-balanced diet, limiting screen time and practicing good hand hygiene.  
Learn more at https://www.chicago.gov/city/en/sites/onechifam/home/children-teens/child-health/back-to-school.html