Police misconduct, random stops and improved response times are among the top issues candidates for the 15th District Council promise to address on the West Side.
Across the board, candidates speaking at a non-partisan community forum on Saturday pushed for accountability, trust and better relationships with the community.
"What's happening oftentimes is that we don't get the service that some folks in other communities may have," Arewa Karen Winters told several dozens of West Side residents who attended the forum held at Hope Community Church.
Five of the seven candidates running for the 15th District Council participated. Carmelita P. Earls, Constance Melton, Deondre Rutues, Elena X. Thompson and Winters, shared their background and experience with police.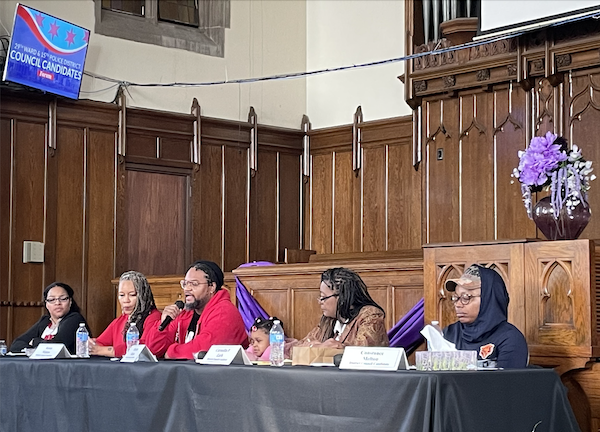 Thompson, a mom of seven, is an advocate for families impacted by the child welfare system and a criminal justice activist, working to assist residents of Humboldt Park and Austin.
Winters became a police reform activist after the killing of her 16-year-old great-nephew by Chicago Police in 2016, as reported by AustinTalks and the Chicago Sun-Times. She is an advocate for a consent decree of the Chicago Police Department, and, as reported by Block Club Chicago, was part of Mayor Lori Lightfoot's Use of Force Working Group.
Rutues is a community organizer with experience implementing community-based policing. He helped launch the Chicago Neighborhood Policing Initiative and leads its outreach efforts in the 11th, 15th and 25th districts, according to Block Club Chicago.
Earls, a retired Chicago Fire Department Chief who ran for the 28th Ward aldermanic seat in 2011, said she wants to use her skills and knowledge of careers in public service to bring the voice of the community to the table.
Melton, is an outreach coordinator, mom of two and longtime Austin resident. She participates in the 15th Police District's monthly faith-based meetings and programs for youth and other community members.
Two candidates – Oddis Johnson and Darius Newsome – could not attend, organizers said.
When asked what they consider to be the missing link between police and community, Winters said it "is the community's ability to have a voice." She said police officers "should be able to be critical thinkers and have a sense of discernment" when making quick decisions, pointing to the shooting death of 13-year-old Adam Toledo by a Chicago Police officer.
"If that officer had just waited a moment and seen that he had ditched that gun, he'd still be here with us today," she said.
Candidates were asked how they would advocate for programs and interventions that reduce police presence. Rutues, Earls, Melton and Thompson said residents need to be connected with the resources they need, including mental health and support services. Winters said she would like to see more violence prevention programs, including mentorship between police officers and at-risk youth.
All candidates agreed the relationships between police officers and community members need to improve. Yet audience members asked how they propose to develop relationships if police personnel frequently changes.
Another audience member asked how members will ensure district councils affect change rather than "becoming window-dressing for community involvement." The candidates agreed their role is to collaborate to get information from the community and raise their concerns with police department officials.
Rutues stressed the goal of district councils is to get community input and ensure the Community Commission for Public Safety and Accountability uses that information to guide their work. Yet, he said he "wants to make it clear that the district council has very limited power."
Voters in each of the city's 22 police districts will select three members per council who will serve four-year terms. Some of the council member's key responsibilities will include nominating members of the Community Commission for Public Safety and Accountability, as "anyone who serves on the commission must first have the support of elected District Council members," according to the city of Chicago.
Following the district council candidates forum, all three candidates on the ballot for the 29th Ward aldermanic seat shared their key priorities for the ward.
Incumbent Ald. Chris Taliaferro and community development manager Corey Dooley said economic development, public safety and education are priorities for the ward.
CB Johnson, a longtime community organizer, said he would seek the community's input to identify the ward's priorities, adding the last strategic plan in Austin dates to 1995. Later in the forum, Dooley said he was surprised Johnson did not now about the five-year quality-of-life plan, Austin Forward Together, created in 2019.
Housing was among the most discussed topics with questions covering affordable housing, rent controls, home ownership and measures to ensure absentee landlords keep up properties they own.
Taliaferro said he supports laws to control rent prices and will continue to work toward building affordable housing and increasing pathways to home ownership. He also said he supports requiring inspections of properties owned by people outside the community and meeting with owners to ensure they provide decent living conditions.
Dooley said homeownership is the key to wealth, proposing ordinances that allow community members to develop small lots, as well as creating renter councils and capping rent increments to maintain affordable housing. He also said he would push to sanction owners who don't live in the community and don't maintain their properties.
Johnson said he would call absentee landlords to the table and teach residents about home ownership and real estate.
Tensions rose when Dooley said he reached out to Ald. Taliaferro before announcing his candidacy to the 29th Ward and didn't get any response.
"For a young man who's wanting to change the narrative, I would've taught that the leader of my ward would've at least invested in me and at least called me," he said.
Taliaferro responded he had not seen or heard Dooley's name until he announced he was running but apologized for not calling him back.
Another issue where candidates expressed varying opinions was how they would address the opioid overdose crisis. Johnson said for the last 30 years he has worked with the nonprofit Campaign For a Drug Free Westside to prevent substance abuse. But during the pandemic, many people relapsed because they lacked the support they needed while being isolated.
Taliaferro said he co-sponsored a resolution in the Chicago City Council to "start conversations" about opening safe-consumption sites on the West Side, as proposed in the Illinois Legislature by state Rep. La Shawn K. Ford. On Feb. 1, Taliaferro was one of the sponsors of a resolution calling on the Illinois General Assembly to approve legislation to allow community-based organizations and healthcare providers to operate overdose prevention sites.
Dooley said he worked with the West Side Heroin/Opioid Task Force to look into the causes of opioid use. "It is happening because we have untreated trauma," he said stressing the need for mental health services as a way to reduce drug use.
Lisa Brown Newman, who is not on the Feb. 28 ballot as she did not register as a candidate for the 29th Ward before the Chicago Board of Election Commissioners, also participated in Saturday's forum.
On flyers posted on her Facebook page and pamphlets distributed at the event, she encourages voters to write in her name on the ballot. According to the Chicago Board of Election Commissioners, write-in candidates are not registered before the board, but voters can write in a candidate's name "if there is a write-in space for that office" or the option is provided on electronic ballots.
Among other remarks, Newman said one of her priorities is to increase residents' disposable income. She said she "believes if the police do their job [and] they clean up the streets," the opioid crisis can be resolved. When asked about her experience working with youth, she said she would like to "spark a movement" encouraging young people "to pull their pants up."
West Side resident Chris Thomas, founder of the nonprofit YourPassion1st, said the forum was a good opportunity to hear the candidates' perspectives.
"I really enjoyed the diversity of thinking," he said. "I appreciate the conversation about these important topics."
Early voting at the two "supersites" in downtown Chicago started Jan. 26. One location, at 191 N. Clark St., will be open through Election Day (Feb. 28), while the other at the election board offices, 69 W. Washington St., will be open through Feb. 27.
Early voting in all 50 Wards begins Feb. 13. The 29th Ward's polling place will be at Amundsen Park, 6200 W. Bloomingdale Ave. The 37th Ward's polling place will be at the West Chicago Library, 4856 W. Chicago Ave.
Both polling places are open from 9 a.m. to 6 p.m. on weekdays, 9 a.m. to 5 p.m. on Saturdays, and 10 a.m. to 4 p.m. on Sundays.
For more information about early voting, visit the Chicago Board of Election Commissioners website.