City officials broke ground this week on Chicago Avenue to kick off construction of two projects funded by Invest South/West: Austin's "Soul City Corridor" and Austin United Alliance's development of the former Laramie State Bank building.
Soul City Corridor, a project led by the city's Department of Transportation, will revitalize the commercial corridor along Chicago Avenue, from Austin Avenue to Cicero Avenue. Austin United Alliance redeveloping the long closed bank at 5200 W. Chicago Ave. into a mixed-use building that houses a bank, a museum, commercial space and affordable housing.
"This is a West Side groundbreaking, but it's a city-wide celebration," Mayor Lori Lightfoot said at Tuesday's ceremony. Ald. Emma Mitts and officials from several city agencies also attended the event, held on the third anniversary of Lightfoot's INVEST South/West plan.
During that time, INVEST South/West's $70 million investment in 10 neighborhoods has brought in $2.2 billion in investment commitments from private, public and philanthropic entities, according to the Chicago Sun-Times.
At an open house held Monday, a day before the groundbreaking, Austin residents had an opportunity to see renderings of the improvements to come. Lubka Benak, project director of CDOT's Livable Streets program, said the improvements were determined based on community feedback gathered in the last two years.
Tina Augustus, an Austin resident who attended the open house, said she's excited to see the "amount of dollars coming into the community" after living through "the whole disinvestment time."
The co-founder of Chicago's West Side Chamber of Commerce said the renovated Soul City's commercial corridor will attract business owners who open up stores and increase economic development, which will help "alleviate some of the issues that the [Austin] community is dealing with."
Improvements to Chicago Avenue include wider sidewalks, new bus boarding islands, more street lights, street resurfacing, improved bike lanes as well as the installation of more trees, benches and trash cans.
To make the avenue safer for pedestrians and bikers, several intersections will have raised crosswalks, ADA ramps, bump-out sidewalks and upgraded traffic signals. In addition, four peace circles designed by youth collaborating with the architecture firm Lamar Johnson Collaborative will be installed along the corridor.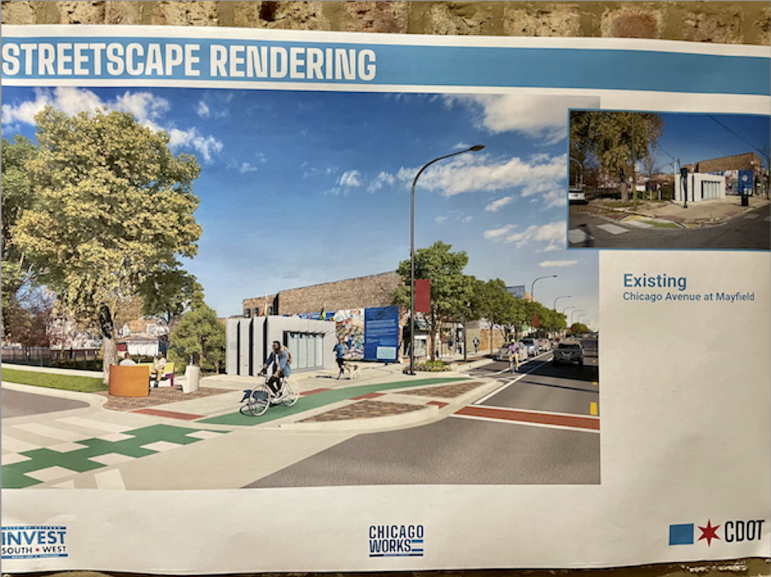 At the open house, Chicago transportation officials presented community feedback on the "look and feel" of Soul City Corridor compiled over the last two years. Residents said they preferred earthy colors, bold and modern fonts, and a modern aesthetic style for the community identifiers – two gateways and several decorative elements for light poles – that will be installed.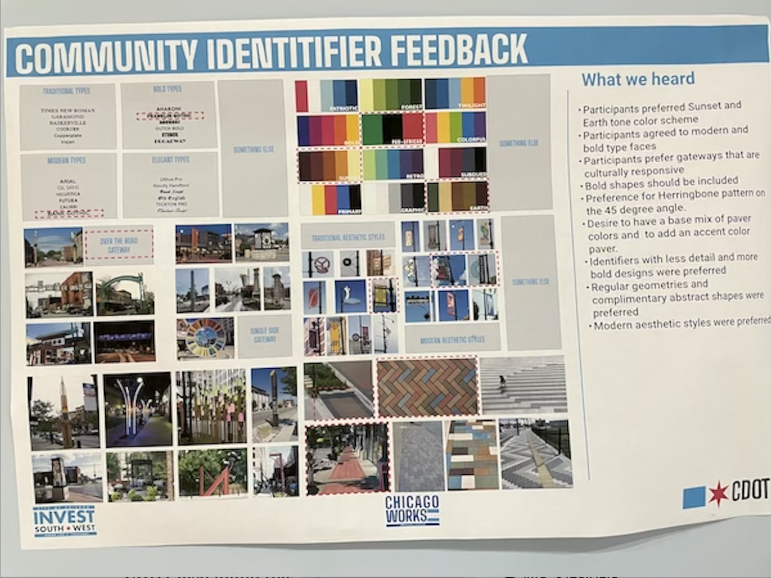 CDOT also found that residents want to see African-American culture and Black power symbols represented throughout Soul City corridor in a way that celebrates their neighborhood and the history of African American communities.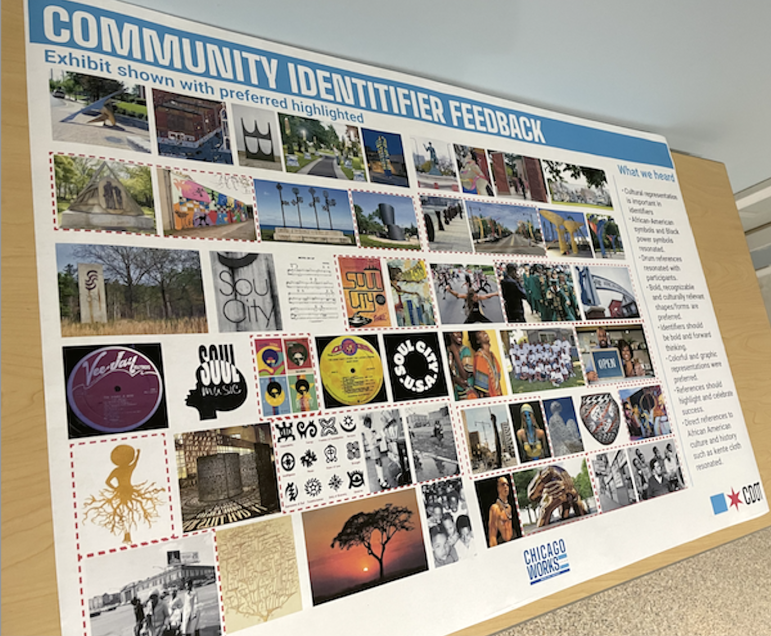 The design of community identifiers will be commissioned to an artist or group of artists through the Department of Cultural Affairs and Special Events. The artist will be selected in mid-December after submitting their proposals to a panel formed by "community representatives, arts professionals and elected officials." Lydia Rose, DCASE's director of public art, said the agency received about 61 applications in the initial call for artists, which closed Nov. 13.
Ross said it's an "exciting challenge" for artists, who will have to propose art that incorporates the community's voice on Soul City Corridor, along with the community's input for public art gathered through DCASE's PARTY tour.
This is a unique opportunity for the two city agencies, DCASE and CDOT, to collaborate on a large-scale streetscapes project, she said.
Gateways and community identifiers are public art, and by collaborating with CDOT, there is an opportunity to bring in artists that will create a visual identity that matches the streets design, she said.
At the open house, CDOT representatives said in some sections of Chicago Avenue traffic lanes will be reduced. Narrowing traffic lanes increases safety for all roadway users as it can reduce drivers' speed, said Chris Wolff, director of the Chicago office at the civil engineering services firm Civiltech.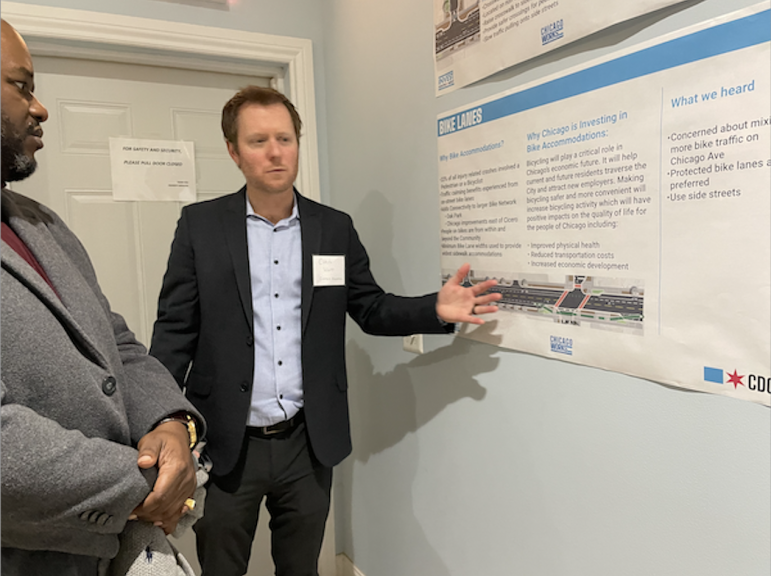 Site plans show some lanes will be reduced to 10-foot wide, the minimum recommended for major urban streets by the National Association of City Transportation Officials. Wolff said based on traffic volume studies completed as part of this project, reducing the size of lanes will not affect traffic on Chicago Avenue.
The full renovation of Soul City Corridor is expected to be completed by 2025. The first phase, started on Nov. 15, will cover Chicago Avenue from Austin Avenue to Central Avenue and will be completed around the summer of 2024.