Dozens of West Siders gathered last week on the southeast corner of Chicago and Lockwood avenues to celebrate the official opening of a new community space dubbed the Pop Courts.
"I have a smile on my face, because this is a blessed day … But why I'm really smiling is to see all of you," Mayor Lori Lightfoot told a crowd of residents and reporters at a press conference before the ribbon cutting last Thursday.
She said as part of the pandemic recovery, the city has invested "significant amounts of resources" on the West Side. "We want to make sure that the West Side comes roaring back as part of our recovery."
Pop Courts is part of the $750 million Invest South/West initiative, which prioritizes investment in 10 neighborhoods.
The mayor said ensuring the city's investments along Chicago Avenue benefit the entire Austin community is "of the upmost importance" to her.
"Pop Courts is one of the first of many investments to do just that."
It has transformed an empty lot into "this bright, welcoming and open space for the public to enjoy here in the historic Austin neighborhood. You can cheer for that," she said.
Maurice Cox, commissioner of the Department of Planning and Development, said Pop Courts represent a turning point after decades of disinvestment in Austin.
"We are going to claim each and every vacant space and claim it as ours."
Cox said that means everything from big projects like renovating the former Laramie State Bank building to simply getting businesses back in the vacant store fronts along Chicago Avenue.
"This is amazing," Ollie Woods said in an interview. He's a spoken word artist who is opening the Knowledge Nest, a creative writing school, at 5300 W. Chicago Ave. in one of those vacant store fronts just across the street from the Pop Courts.
Woods said he grew up not far from Austin, around 16th Street and Pulaski Road, "so I know how it used to be."
But, he said, he can see the transformation coming, and he's looking forward to being part of it. "I want to be part of change. I don't want to just talk about it. I want to be a part of it."
"I can't tell you how excited I am to see this young kid running around in front of here," Cox said as a toddler ran around between the crowd and the podium, playing and high-fiving reporters.
"This is a space for him too."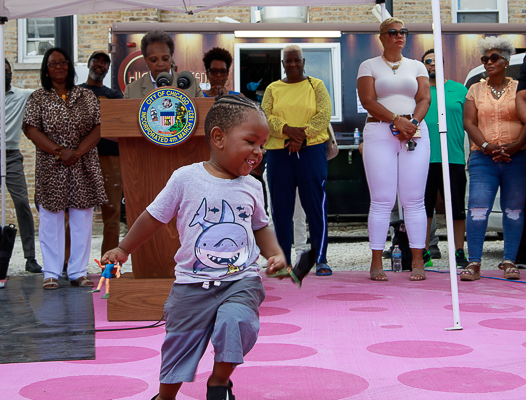 Vanessa Stokes, an Austin artist, resident and manager of Special Service Area 72 The Village: Austin Chicago Avenue Cultural Corridor, said she used to walk past the corner on her way to the corner store, back when there was a vacant building on what became a vacant lot.
After becoming the manager for SSA 72, "I really saw this space as being something for the community," she said.
She brought the idea to city officials, and they helped connect her with the resources to turn the vacant gravel lot into Pop Courts, she said.
Pop Courts feature a dedicated food truck area, a shaded lawn with outdoor furniture, a basketball court and mural painted by Paint Chicago.
Barrett Keithley, one of the artists who worked on the mural, said the mural is "an ode to our ancestors." It features portraits of figures such as Malcolm X, Mahalia Jackson and Harriet Tubman.
They're people who "kept the fight alive, kept inspiration, passed down generation to generation," Keithley said. "And here we are now, paying homage."
Cox said Pop Courts is just the beginning of investment in Austin.
"It's a little down payment of what's coming for Austin in the future."