Austin Chamber of Commerce hopes to transform the area near Austin Town Hall into an arts and cultural district.
Creating jobs, especially for youth, is one of main drivers behind the project, Amara Enyia, the chamber's executive director, said last month before a public meeting about the project was held.
The campus would be comprised of Austin Town Hall and four surrounding buildings, including the Austin Branch Library at 5615 W. Race and the former Austin YMCA at 501 N. Central. Frederick Douglass Academy High School (543 N. Waller) and the now closed Francis Scott Key School (517 N. Parkside) would round out the campus.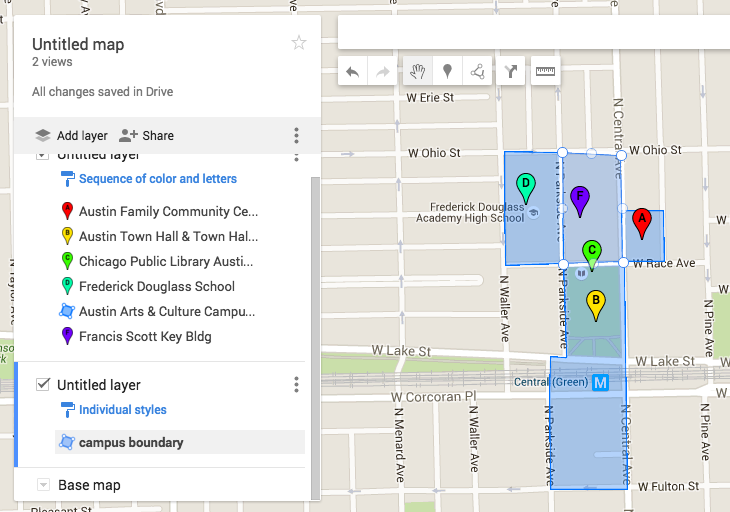 Enyia, who conceived the project and has backing from 29th Ward Ald. Chris Taliaferro, said the campus is in development and doesn't have any cost estimates yet.
Austin's campus would mirror similar arts-focused areas in other parts of the city, like Greek Town, Little Village and Oak Park's Harrison Street Arts District.
The project would feature artwork created by local artists and youth dispersed throughout the campus area, which is just steps from the Green Line Central El, making it easy for others outside Austin to visit the arts district.
"The campus concept is about creating a destination, not just for the city but the suburbs," Enyia said. "The arts is a key economic driving force, plus we have these buildings that are in close proximity to each other. Someone else may see them as separate buildings, but I've always seen them as interconnected."
Douglass High School and the former Austin Y would house community nonprofits looking for headquarter or satellite office space. Douglass has about 430 students enrolled, according to its most recent state School Report Card.
The school, according to Chicago Public Schools officials, is not targeted for closure but will instead be converted to a shared campus with outside groups. Douglass has attracted attention from the chamber and other Austin organizations looking to redevelop part of the building.
The chamber also hopes to acquire the Key building for a culinary kitchen and food business development center. Key and three other Austin schools were among the 50 schools closed by CPS in 2013 due to "under-performance."
The former Austin Y is slated for partnering tenants focused around "human capital development," including workshops on workforce and leadership, as well as social/emotional development.
The Austin Y shut down its youth services in 2012 due to sparse membership and participation, according to YMCA of Metropolitan Chicago officials. The building's housing units continue to be occupied, though.
Ald. Taliaferro has expressed support for the arts and cultural campus.
"I think it's an excellent idea. It gives us a sense of pride in the community, and it helps us from a community development perspective," Taliaferro said, adding that he'd like to explore whether state money is available to help pay for the project.
"Funding is going to be important," he said. "That's one of the questions we have in looking to our state reps to see if there's any state funds available for community development projects."
Enyia said Austin's district would not only create jobs from its partnering groups but that surrounding businesses would benefit from the increased foot traffic.
Jobs on the West Side and in the city remain scarce, according to U.S. Department of Labor data.
Chicago's unemployment rate in May jumped to 6.6 percent, up from 6.3 percent in April.
But unemployment for African-Americans in the city is about 25 percent, the highest rate in the nation among heavily-populated cities; Philadelphia, Los Angles and New York, by comparison, range between 14 and 19 percent, the Chicago Reporter reports.
The timetable for Austin's arts district will be "very aggressive," Enyia said. A capital campaign is slated to start this year.
Enyia said she doesn't see this as a five- or 10-year project but happening much sooner once the community and elected leaders become engaged.
The chamber, she added, would open its own satellite office at one of the campus locations for business consulting and workshops.
Chicago West Community Music Center, currently located in West Garfield Park at the Gold Dome field house, is also eyeing the campus for classroom space, said Howard Sandifer, the center's co-director.
The after-school, performing arts program has between 50 to 100 West Side high schoolers participating, playing instruments and also learning about the business side of the music industry. Sandifer said the program will remain in Garfield Park but would like to find additional space in Austin.
"We've maxed out our space here. We want to be able to offer more classes, but funding is always an issue," said Sandifer, who runs the center with his wife and co-director Darlene.
Live Cafe and Transformational Space, a newly launched Chicago nonprofit, is another community partner.
Reesheda Washington, its founding director along with her husband, Darrel, said she was interested in coming to the arts district after connecting with Enyia through a mutual friend.
Live Cafe will be a sit-down coffee shop offering a place for live music, spoken word and community conversations.
Reconnecting the community through communal experiences is part of Live Cafe's mission, said Washington, a former Oak Park high school teacher and Chicago school principal. It's also looking to employ people from the community, including youth, to teach them about entrepreneurship.
Washington, an Austin native, said she was looking at either Austin or Oak Park as a launching point.
"There was a ton of synergy after talking with Amara. And after she shared her vision about the campus, it was a no-brainer," said Washington, who served as Austin's Plato Learning Academy's first principal.
Live Cafe, she added, will open a satellite location in Oak Park this fall. Oak Park's Sugar Beet Co-op, a healthy foods grocery story featuring goods from local farmers, is a potential partner for the Key building food hub, Enyia said.
Garfield Park's Inspiration Kitchens and Austin's BUILD, a youth anti-violence organization, are other potential partners.
In related news, the Chicago Transit Authority is working with Taliaferro and the Austin African American Business Networking Association to beautify the bus terminal at Chicago Avenue and Austin Boulevard with cultural artwork.
The CTA has put out a request for proposal (RPF) for an artist to work on the project. The artwork would be on permanent display at the bus station.
The art project is part of a larger CTA initiative to spruce up the bus station. New trees and flower planters went up at the terminal earlier this month.