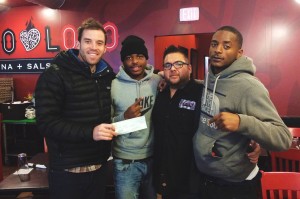 Basketball coach Matt Jones had to get to practice. So did coach Tevin Russell and team member Antwon Love.
Jones honked his horn as he looked for parking on a crowded Austin street and waited for his friends to come out, but finding none he kept circling the block.
The three Austin residents were headed to Calvary Memorial Church in Oak Park that Saturday morning in July 2012, but police had other thoughts.
Finally, Russell and Love came out and got into the Jeep. That's when an unmarked police car suddenly pulled up behind them, and another blocked them in front.
Two officers approached the men, guns drawn, demanding they show their hands and asking a lot of questions, the men say.
"He was peppering us with questions like 'What church you going to?' 'What's the address of the church?' 'Where do you live?' 'What's your address?'" said Jones, a 25-year-old computer consultant who moved to Austin with his wife three years ago.
So what had the three done to merit this attention?
The officers said there had been reports of a suspicious white man in a car circling the block.
They had questions for his black passengers, too.
"They asked my brother, 'When's the last time you been to jail? How many tattoos you got? When are you going back to jail?'" said Love, 22.
The interrogation finally ended after the officers ran the three men's names through their computers and verified that none had a warrant for his arrest.
For many young black men in Austin, these encounters with police have become routine, a part of every day life.
But they strain the uneasy relationship between West Side residents and the police, community organizers and criminologists say. Until that relationship improves, many residents will think twice about talking to police and helping reduce crime.
Police Chief Garry McCarthy and Mayor Rahm Emanuel often complain about a "no-snitch" mentality that prevents crimes from being solved in neighborhoods like Austin. If more residents would just speak up, then more arrests could be made in homicides cases and other violent crimes, they say.


Austin residents, however, say they're reluctant to talk to police, recounting the times they or people they know have been mistreated, disrespected or stereotyped by police. Some also worry that if they share what they know about a crime, then they or their families could be at risk.
Jones said he remembers the fear he felt that day he was pulled over – and the anger about being singled out.
"My heart was pounding," he said. "I'm nervous when I get pulled over for speeding. So I just wanted to get out of there."
But Love remembers feeling differently, perhaps because he's used to being stopped by police.
"When the police pull you over and you haven't done anything wrong, you don't have to be scared," said Love, who estimates he's been stopped by police at least 10 times.
Russell, 21, who's spent all but four years of his life in Austin, said the police "mess with the wrong people," often stopping those who are walking in groups and accuse them of disturbing the peace.
Russell said he's been stopped many times and suspects it's because he's a black man with tattoos who wears certain types of clothing.
Being stopped by police that summer day in 2012 didn't faze Russell and Love. But the experience changed Jones, who said he feels something unjust happened that day and now wishes he had filed a complaint because the police had no reason to pull them over.
Repeated phone calls to Adam Collins, the spokesman for the Chicago Police Department, were not returned. Nor did the department respond to requests to talk with Austin police officers and 15th District Commander Barbara West.
But at a meeting last month in Austin, two CAPS officers talked about their efforts to integrate themselves into the community.
"We are trying to break down barriers," 15th District CAPS officer Al Townsend said at an "urban strategy community safety" meeting held Nov. 16 and organized by the United Methodist Church of Chicago.
"Trust comes over a period of time," Townsend said.
Another speaker at that November event was First Deputy Supt. Al Wysinger, who used to serve as commander of the 15th District.
Wysinger said one of the most important things the department can do is recruit people from the community who understand what it's like to live there and will treat residents with respect.
"I'm sitting here and probably as successful as I am because I came from (this community.) I know what a drug dealer looks like. I know who the good guys are from the bad guys. But most importantly I know what my people think," said Wysinger, who declined to be interviewed after the event.
Two year ago, he and police Chief McCarthy dismantled two city-wide units, the Target Response Unit and the Mobile Strike Force, which Wysinger described as armies that traveled from one hotspot to the next dealing with outbreaks of crime.
But they had no real connection to the community, he said.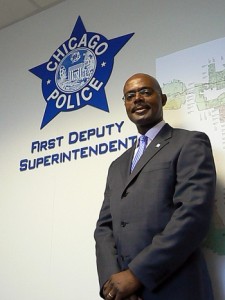 "It honestly did more to alienate the community towards police than it did to actually build bridges and foster relationships because their mentality was just to go out and tap down crime," Wysinger said.
"You do have young men that are good, viable people in the neighborhood that just hang on corners. But unless you're from the particular district, you don't know these guys that are hanging on the corner may have just stopped there from playing a pick-up game of basketball to get something to drink," he said.
One alderman, though, wonders if police are being tough enough with Austin residents.
Last month during a budget committee hearing at City Hall, Ald. Deborah Graham, whose 29th Ward includes much of Austin, said her community has its challenges.
"We want officers to approach their job feeling comfortable. Cops sometimes have to use excessive force in order to subdue individuals," the alderman said.
That doesn't sit right with Elce Redmond, who's been a community organizer at the South Austin Coalition for more than 20 years.
Redmond said the problem with police-neighborhood relations is that officers don't come from the community in which they serve and they don't see themselves as problem solvers but instead as an occupied force.
"Sometimes folks that are in power positions label everyone in an area as horrible based on their experiences with a few individuals," he said.
Instead of dealing with the troublemakers in the neighborhood, police treat everyone as though they're criminals because they don't know the difference, Redmond said.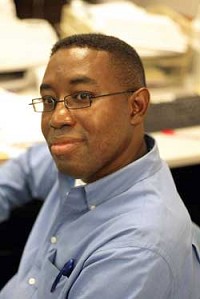 "Not all the young people are selling drugs, and not all the young people are carrying guns … you need to differentiate between them and those who are."
The only way police can repair the strained relationship, he said, is to reform the entire criminal justice system – from the police and prosecutors to the courts and prisons – because communities of color distrust each part.
"The police need to really understand who is who and not pull over everyone who looks suspicious," Redmond said.
Arthur Lurigio, associate dean for faculty in the College of Arts and Sciences at Loyola University and a professor of criminal justice and psychology, said the negative feeling that residents have toward police dates back to the civil rights movement.
"The Jim Crow laws were enforced by police," Lurigio said. Police "were used to crack down on African Americans."
To fix these strained relationships, he said more opportunities must be created for positive interactions between residents and police in neutral settings.
"When cops are interacting with young men on the street, it's usually tense, antagonistic and charged. They need to find more neutral ways of interacting. There needs to be healthy dialogue, so they both can understand each other. They are both misunderstood."
Ambrell Gambrell fears the poor relationship she's seen between police and residents is beyond repair.
The 20-year-old Dominican University student and lifelong Austin resident points to an encounter she had in July after one of her cousins was killed.
While gathered with friends and relatives at a makeshift memorial made to honor 19-year-old Ashley Hardmon, Gambrell said the group was harassed by police.
She said officers drove past and shouted from their car to the mourning crowd, "Doesn't matter anyway, you bitches gonna die tonight anyway."
Gambrell said those words hurt, but it didn't surprise her.
"That's typically the general relationship between people in my community and the police."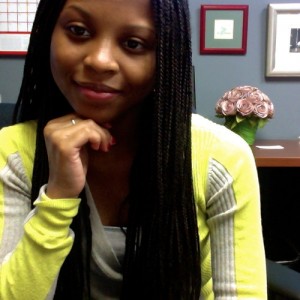 She said she's witnessed several situations where police treated friends or family members unjustly.
When she was about 8, Gambrell remembers officers stopping her then 15-year-old brother as he walked her and two young cousins home from La Follette Park.

As the children stopped at the park's water fountain to get a drink, two officers pulled up, got our of their car and began to search her brother, Gambrell said.
"They were accusing him of being some sort of criminal, and I was really small at this point. I don't know my place with the police, so I'm like 'leave my brother alone.'"
Gambrell said it was at that moment that one of the officers turned to her and said, "Shut your mouth, little bitch!"
She said she's never had a positive experience with police in Austin, and she doesn't expect things to change because officers don't feel comfortable around residents and don't see them as human beings.
"They don't trust us, and we don't trust them. I don't think that's ever going to change because of history."
Mario Lekovic and Stephanie Souder contributed to this report.
This story is part of a week-long series about homicides on the West Side. AustinTalks undertook the three-month project with the support of The Chicago Community Trust. Earlier this year, AustinTalks' sister site ChicagoTalks published a related series, the Forgotten Dead.
Here are the other stories in this series:
Austin residents keep hope alive despite violence
Nearly a year later, mother still investigating son's Austin neighborhood murder


With Austin's woes, youth find refuge in Oak Park; "We need people who won't give up on us"