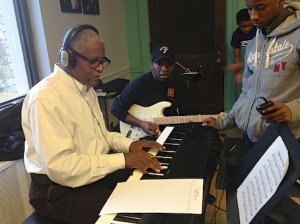 He describes his life as full of gang banging, drugs and hustling.
"I got in gang fights and shot at with my friend. The route I'm head[ing] in my life will be short, but this life I chose, this life I been around [since] I was [little] . . ."
An Austin 8th grader wrote this for a school assignment last year. The sentiment doesn't surprise Asif Wilson, who taught the boy for two years at May Community Academy before the school closed in June.
"We have to take kids seriously for their words," Wilson said. "What I think [the student] is saying there is, 'I have no space to go, there are no options for me, and I want to be part of a group,' like any child would."
Inspired by the book Our America: Life and Death on the South Side by LeAlan Jones and Lloyd Newman, Wilson had his class of 20 students explore their own lives and neighborhood by telling their personal stories.
While the teens' experience and perceptions varied widely, fear of violence and the reality of death were persistent themes in each of the student's books.
More people need to pay attention to what Austin's young residents are saying and experiencing, Wilson says.
"Instead of understanding how many children are affected by this stuff we need to know that they are affected by these realities that exist – and do something to the systems that created them," he said.
Music teacher Howard Sandifer says he's always saddened when a child he's working with thinks dying young is inevitable.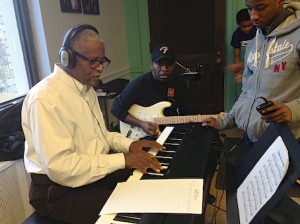 "A few of our kids even bought into the lie that they're not going to live over 21," he said.
Sandifer and his wife Darlene founded and direct the Chicago West Community Music Center. Held in the Garfield Park field house, the music center offers a variety of after-school programs that target low-income youth from grade school through high school.
"Many of our kids, you talk to them, it's not uncommon at all because many of their friends, their relatives, have been shot down, murdered."
Duane Wilson, executive director of The Peace Corner, says most of the 12- to 18-year olds who participate in his after-school program are desensitized to violence. Many of the kids say they'll "hopefully live past 18," and they "don't even flinch when [they] hear gunshots … it's the norm."
"When we get new volunteers we always tell them to ask the kids what their dreams are," Wilson said. "And what always breaks everyone's hearts is when you ask a 4th grader what their dream is, and they say to make it to 5th grade."
Victor Ochieng is a youth practitioner for the Westside Health Authority. He, too, sees children who seem emotionally unfazed about what's happening in their community.
"It's a part of their subculture," Ochieng said. "They'll talk about it. It's part of their vocabulary every day. It's in the music they listen to . . . it's just the way it is."
High school student DaShaun Wallace, 17, has seen the violence in Austin first hand.
"I witnessed somebody getting mugged before, somebody getting stabbed before," he said. "It's pretty crazy seeing those things happen because one day you just hope that doesn't happen to you."
DaShaun says living in Austin can be like playing a game of chance. He recalls one night when he was on his way home and a gut feeling told him to stop off and see his mom.
"She was at work and something told me to go say hi," he said.
When DaShaun arrived home his grandmother told him just 10 minutes earlier there had been a gunfight.
"So if I would have went home, I probably would have been caught in the crossfire," he said.
He's afraid of a lot of things: "Getting jumped, getting shot, getting stabbed, or robbed or whatever. All of that is a fear in my mind when I'm walking to and from school."
"I really don't like to go outside. I like to stay in my house, in my room … I don't really like to do anything outside."
The Peace Corner's Wilson says unpredictable violence causes symptoms similar to PTSD in many of the children he sees.
One of the few places Dashawn takes refuge is at Off The Street Club, which offers after-school programs for 4- to 18-year-olds in West Garfield Park.
"There's parties almost every weekend, and there's a lot of crazy things going on and a lot of crazy people in my neighborhood," DaShaun said, "but I'm drawn to more positive things like Off The Street Club that keep me safe and off the streets, and away from the gangs, drugs and violence that happens in my community."
Markel Mooney teaches classes on poetry, DJ-ing, drum circles and drama at La Follette Park. He says providing a safe place for kids to go is one of his primary goals.
"We figure the hours we're keeping them in the building, there's less ambulance calls, there's less situations going on outside with a lot of the gangs," Mooney said.
One of the students Mooney has mentored is 18-year-old Marielle Dickens. She was just 9 when her father was shot to death in an altercation in the 5100 block of West Ferdinand Street. Dickens says his death made her the person she is today.
"I don't take things for granted," she said. "Two things that you can't take back is a life or time."
Dickens excelled in high school, showing a passion for poetry and dance. This past summer she competed in the nationwide NAACP ACT-SO competition. She won a gold metal in poetry, beating out hundreds of contestants from across the country.
Now studying psychology at the University of Illinois at Urbana-Champaign, Dickens strives to be a role model for young women of color and use her success to change their view on life.
"A couple of people have come up to me and said that I inspired them to write poetry and that I inspired them to compete in the competition," she said. "I felt like I could change somebody's perception on life or I could change their life based off of what I'm doing."
Dickens says she sees a vicious cycle that prevents kids in Austin from trying to improve their lives. The cultural pressures make young people feel like they can't achieve anything, which in turn make them antagonistic about school and education, she says.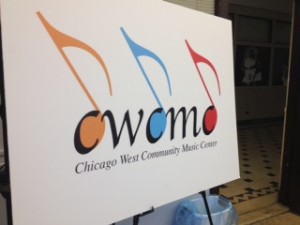 Music teacher Howard Sandifer agrees.
"So many folks in our community get beaten down by everybody, sometimes even their own families — 'you're no good, your daddy ain't no good, you ain't gonna be no good.'"
This creates a self-fulfilling prophecy, says The Peace Center's Wilson.
"If you've grown up in a situation where everybody tells you that you're nothing, that nobody cares, the media says the same thing, it's kinda like 'Well, I might as well do something negative because that's what people expect me to do.'"
This mindset disturbs Darlene Sandifer.
"There's a strange concept going on there," she said. "They expect to die. So what we have to do is get them to a point where there's something to live for."
Her husband says, "There's nothing magical really, it's just a matter of peeling away all those negative forces, which tend to invade their lives and really come at them at school, at home or in the streets."
The stakes are high, he says.
"The streets are always waiting for them."
Tom Moran and Lynsey Mukomel contributed to this story.
This story is part of a week-long series about homicides on the West Side. AustinTalks undertook the three-month project with the support of The Chicago Community Trust. Earlier this year, AustinTalks' sister site ChicagoTalks published a related series, the Forgotten Dead.
Here are the other stories in this series:
Austin residents keep hope alive despite violence
The police and community at odds
Nearly a year later, mother still investigating son's Austin neighborhood murder

"I'm still stuck on that day."

With Austin's woes, youth find refuge in Oak Park; "We need people who won't give up on us"