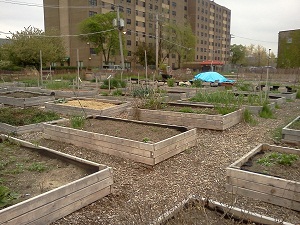 If it's spring, it's time to plant a radish or a carrot – or just about anything else that's edible. And spots in Austin are ready – or soon will be – to lay the groundwork for flowers, plus lettuce, kale, broccoli, herbs and other things fit for eating.
On April 14, Root-Riot: Harambee officially kicked off its third year of turning the corner of Waller and Race avenues into a vast expanse of food and other growing things. A few blocks to the north, residents on May 12 will create the Ed Bailey-Leola Spann Community Garden.
Over its three years in existence, Harambee has nearly doubled the number of beds it leases, and more plots may become available, said Seamus Ford, one of the creators of Root-Riot, which organizes Harambee and other garden projects in Chicago, Oak Park and Forest Park. Members lease the 4-foot by 8-foot plots for $40 a year.
As in the past, the Chicago Fire Department just a stone's throw from Harambee will supply the water.
This year, goats again will chomp on verts to keep the grassy area outside of the garden weed-free. Their milk, combined with honey supplied by a beehive or two that will be on site, will be some of the makings for homemade bread, Ford said.
A grape arbor, which will be started this year, will in time become a place for weary gardeners to sit and relax.
Earlier this month, the first work day drew folks who weeded, cut the grass and cleared their own beds of overgrowth. Others started a community bed for potatoes and other veggies.
Oak Parker Zack Nauth came by during Saturday's work day to continue weeding and aerating a plot, which during his year's absence from Harambee had been leased by a gardener who planted strawberries. He said that in the warm weather the plants had been blooming. "Someone else took over the bed, and they made something of it," he said.
He never thought that Harambee would get goats and bees. "It's great to see there's interest. Everyone benefits from the experience," he said.
What drew him back – and what brings folks from Austin and Oak Park – is the sense of community that the garden has created.
"I pick a few beans, meet some of the folks. It's great to hear what's going on," he said.
As his mixed-breed dog Tuxedo frolicked outside of the garden area, Austin resident Allen Van Note looked carefully at the beds and sized up the work that needed doing.
"This (site) was considered part of old downtown Austin," said Van Note, whose daughter Grace, a seventh grader at ChicagoQuest Schools, tends the family plot. "This area (garden) is very important to us. It's almost like our town square."
Regulars are encouraged to come to a Root-Riot meeting at 7 p.m. April 26 at Oak Park Village Hall, 123 Madison St., where the garden in Austin and another in Oak Park will be organized.
Work days are slated for 3 p.m. April 29 and May 13 at 500 N. Waller. For more information, log on to the Root-Riot web site.
At 8 a.m. May 12, the community will come out to the northeast corner of Mayfield and Chicago avenues to turn a 125-feet by 60-feet lot into the Ed Bailey and Leola Spann Community Garden.
A ton of mulch is ready to be spread, and a few planter boxes are set to be future homes for 50 beds for "whatever people want (to plant)," said Malcolm Crawford, executive director of the Austin African American Business Networking Association, which is looking for dollars and manpower to make this project a success.
He said they'd hoped it would have been done last year,  but unforeseen circumstances delayed it until this year. "This is an ambitious approach," he explained. "We want to get this done at one time."
One tree has been planted in honor of Mary Peery, the long-time president of the Austin Green Team; another will be added this spring, Crawford said.
The garden will be named for Ed Bailey and Leola Spann. Bailey helped found the South Austin Coalition Community Council, which advocates and provides services for the elderly and the poor. Spann was devoted to getting rid of drug dealers and gangs in the Austin neighborhood.
This spot will be important to Austin, Crawford said. "There aren't many monuments or areas to honor the people who've come before us. This is a place where you can come and reflect on family members and friends," he said.
For more information, e-mail aaabna@yahoo.com or stop by 5820 W. Chicago Ave.