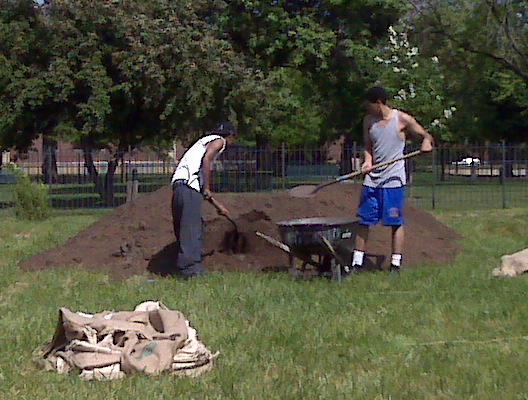 This year's theme at Frederick Douglass Academy High School has been Harambee, which means "all pull together" in Swahili.
But little did the students and staff realize that this simple statement of values would take on a wider meaning for themselves and their West Side neighborhood.
The garden in the 500 block of North Waller has become Harambee Garden, signifying the unity that students and the neighborhood have fostered in turning a long-vacant lot near Douglass Academy into a source of pride for the community.
Fifteen Douglass students have been plying their muscle to this effort almost from the start: mowing grass, helping build more than 30 garden beds, preparing the plots for soil and mulch. This summer they'll plant and garden their own beds.
Some, like 15-year-old freshman Edward Cozark, volunteered to help turn the area – overgrown with weeds and filled with garbage – from a neighborhood embarrassment into something nice.
Senior Courtney Brown, drilling together the slats of wood that became a garden bed, wanted to make it look a little better before he left. He said he learned a lot about building things and working with others.
"We want to use this to bring the community together, not just the school but the entire community," said Brown, 18.
Students hope this and a plot of land nearby will become a source of summer jobs and a way to teach others about healthy eating. A number of students have used the garden as a way to pick up some of the necessary 40 hours of community service required for graduation.
"This won't be just a summer thing," said Deandre Robinson, 17, a junior. "We will help keep this going."
The students have been extremely motivated, said Harambee volunteer Dean Nickerson. "They are working so hard to improve the community," he said.
Robinson said the school got involved almost by coincidence. He said he and other students were trying to figure out what could be done with that land when he saw Seamus Ford, the co-founder of Root Riot Urban Garden Network mowing the tall grass. A partnership was immediately formed.
Ford said: "We wanted to give them the chance to have an immediate experience that would have a positive impact on the community. It's been inspirational."
Donations are still being accepted by Root Riot. To see AustinTalks earlier coverage of the garden, click here.
austintalks.org@gmail.com