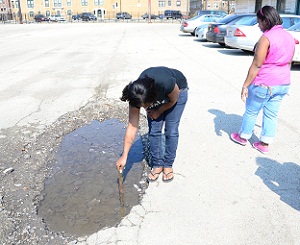 Gaping potholes litter the large parking lot behind Robert Emmet Elementary School, and a dilapidated field house with peeling paint and broken windows sits unoccupied.
The parking lot and field house were once a place where children at the Austin public school could play for recess and physical education, but because of the lack of capital investment from Chicago Public Schools, students at Emmet can't use the amenities, say some community and education activists who gathered March 16 at the school.
Chicago Public Schools Board of Education voted in February to invest a "significant amount of money" in the Academy for Urban School Leadership to turnaround six schools, said Dwayne Truss, member of the Progressive Action Coalition for Education.
"Yet you have a neighborhood school here like Emmet that's performing better than those schools, but are being ignored for their capital needs," he said, standing next to a large pothole filled with dirty water and leaves.
Emmet, located at 5500 W. Madison St., is one of the West Side's high-performing public schools. The school's 2011 Illinois Standard Achievement Test Composite Score was 73.8 out of about 80 percent.
Truss said Emmet scored higher than many other charter and turnaround schools in the city, including Howe School of Excellence, Kipp Ascend Charter School and turnaround school William T. Sherman Elementary, to name a few.
Ald. Deborah Graham made an appearance at Friday's rally to hear the concerns regarding the school and to look at the existing playground and field house.
"We used to hold basketball tournaments here on this playground over the summer months," she said. "The playground has become deteriorated, so we need to take a look at what's happened."
Graham also noted the school is performing up to par, and kids should be inspired every time they come to school, not feel uncomfortable.
"We want to make sure the school has the capital needs that it deserves," she said.
Truss called on CPS, asking if it would renovate or demolish the field house and repair the asphalt.
"The field house is a magnet for vandalism, and it's a haven for rats to hide out in," he said.
"We want to make sure we have a safe area for our children to play in. You have these two enormous potholes here, which are a danger."
Representatives from the Chicago Teachers Union made an appearance and voiced concerns about the learning conditions at Emmet and other Chicago schools.
"This to me is unconscionable that we would be standing in the middle of a large area that should be devoted to play or recreation or physical education, and I'm looking at two gigantic potholes and a building that has been in disrepair for a number of years," said Michael Brunson, recording secretary for the Chicago Teachers Union.
Brunson called the conditions a health and safety hazard.
"Something needs to be done," he said. "It's clear who is not benefiting from these policies."
Jitu Brown, education organizer for Kenwood Oakland Community Organization and an Austin resident, said there are too many examples of good-performing public schools that have been destabilized as a direct result of neglect from the school district, "or just from CPS actions that were damaging to educational climate."
"It's an excellent moment to pull Chicago Public Schools in the room and say we need to have a conversation," Brown said.
In a written statement, CPS spokeswoman Marielle Sainvilus said, "We commend Emmet Elementary School principal Dr. Jacqueline Robinson, parents and students for the amazing work they have done to boost student achievement at their school. This success has been aided by the addition of a World Language Magnet Cluster at the school, and CPS is proud to support and partner with Emmet elementary on further boosting student achievement in the future."
According to Sainvilus, over the last three years, Emmet received an 11 percent increase in per pupil funding, and the CPS spokeswoman said more than $2 million in capital improvements had gone to the school over the past five years.
"We have already identified the potholes several months ago for repair but can only do so during the construction season, which starts up again in the spring," she said.