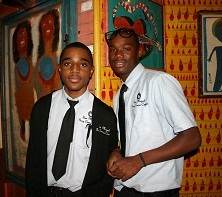 The only thing more exciting than the San Miguel Schools raising $300,000 at their 5th annual School Rocks! benefit was the news that standardized achievement test scores at the Gary Comer Campus in Austin were the best in the school's history.
"The TerraNova standardized test results highlight how the youth of Austin at San Miguel are proving the naysayers wrong about their dreams and desires, and the commitment of youth and families to education," said Michael Anderer-McClelland, the schools' president/executive director.
"San Miguel School is blessed with dedicated faculty, the strong participation and support of our student parents and families, and it goes without saying, the hard work of our students."
The San Miguel Schools, which has campuses in Austin at 819 N. Leamington Ave., as well as the Back of the Yards neighborhood, target inner-city students who are entering middle school at below grade level and at an academic disadvantage.
At Austin's Comer Campus, 100 percent of the 67 students are African-American, and 91 percent live at poverty level.
The school is private and faith-based, and receives no public money for its middle school program, whose graduates continue to receive support through high school, college and beyond. Not wanting money to be a barrier to their program, San Miguel charges families a monthly fee of  just $70, for a total of $840 a year, although actual costs total about $10,000 per student per year.
"So, more than 90 percent of our expense budget is paid for by charitable contributions," said Anderer-McClelland. "In tough economic times, a successful event like School Rocks! is very important."
This year's event, held Oct. 20, marked the 5th anniversary of School Rocks!, which has raised more than $1 million for scholarships and community support for San Miguel students. The money is critical to helping continue to provide the guidance, services and environment that makes San Miguel such a great program, said Anderer-McClelland.
"There is no denying indisputable evidence that the school is transforming the lives of families," he said.
More than 600 guests rocked with Cheap Trick at the House of Blues, singing and dancing to tunes such as "Dream Police" and "I Want You To Want Me." The British rock band Badfinger – the first group to sign on the Beatles Apple label – headlined a sold-out, VIP performance at the Hotel Sax's Crimson Lounge before Cheap Trick's show.
Longtime Badfinger guitarist Joey Molland said he was more than happy to lend a hand to raise some funds.
"It's a good cause," said Molland, who played an approximately 45-minute set that included hits such as "Baby Blue" and "Day After Day."
"We love San Miguel."
During the evening, San Miguel presented its Leadership in Education Award to Lina Abraham for her decade long support and commitment to the schools. Additionally, a 2003 graduate, José Gonzalez, told of his deep appreciation for the education and encouragement he had been provided throughout middle and high school.
"It's opened many doors for me," said Gonzalez, a Lewis University alum now working for San Miguel.
The school, "changes people's lives," said supporter Jack Larson, who underwrote the Cheap Trick concert.
"The main thing is seeing the faces of the little kids. What's there not to love with what they're trying to accomplish?" Larson asked. "Education has always been a lifesaver."
It's, "a wonderful thing," to provide this sort of opportunity to children, said attendee Joe Sweeney.
"You're not only changing their life, you're changing generations," said Sweeney. "That's what it's all about."
Anderer-McClelland said the school is already starting its list of possible acts for next year's big event, and they are, "looking to serve up the same great show."  So far, REO Speedwagon, Journey and Chicago are possibilities, he said.
And at the Comer Campus, it seems they're also "looking to serve up the same great show," by continuing with high test scores, excellence in education and community involvement.
"Our goal is that the youth of Austin complete high school successfully with the skills, supports and awareness they need to make the next productive life choice," said Anderer-McClelland.
"Currently, in addition to continuing to strengthen our middle school program and our youth development supports for our graduates while they are in high school, we are exploring ways in which we can serve more youth and families through after-school programs, family support education, and academic and social supports for high school age youth.
"Stay tuned."