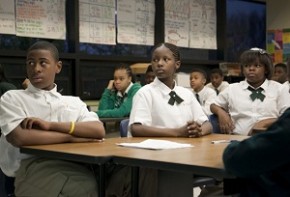 Business leaders may have sparked inspiration in the young minds at Catalyst Circle Rock Charter School last week, when local Chicago professionals told success stories at the fourth annual career day.
"It's important for the kids to see that people who have grown up in the same areas and have also had issues have triumphed and grown up to have great careers," said Sharon Morgan, director of graduate support and community outreach for Circle Rock Charter School.
"Our kids can see that they can make it; no matter how hard the circumstances, they can do it," she said.
Catalyst Circle Rock Charter School kicked off it's college and career week Nov. 7, which included activities for students such as college dress-up day, career day and a week-long essay contest, with prizes and recognition for the authors whose essays rank in at first, second and third place.
"Everything you do requires heart," said David Shwatal, owner of Bright World Images, an event and portrait photography company. He spoke toa fifth-grade class and showed a slideshow of images.
"When you love something you do, it takes a lot of work," he said.
Shwatal told a story of dedication and pride, citing a need to wake up earlier than 4 in the morning for one of his most successful images, the Chicago skyline at dawn.
"This is great," he said. "The students get to see what the possibilities are. They'll get the opportunity to expand their horizons."
With the help of Connect To The Future, students heard individual success stories from more than 10 business leaders. Occupations ranged from a police officer and lawyer to a photographer, loan officer, radiographer and non-profit representative.
"You don't have to be a CEO or VP of something to be a success," said Morgan. "This should introduce students to a career they may not have otherwise heard of or considered."
Connect To The Future, in partnership with the Future Founders Foundation, is a non-profit program through which students can receive one-on-one contact and advice from business leaders. Connect To The Future is currently working with five schools, sending professionals out for at least six visits throughout the year to each school.
"Whatever career you guys choose, it's important to turn your challenge into a way to give back and help other people," Jonny Imerman, chief mission officer for Imerman Angels, told a class of eighth graders.
Imerman Angels is a non-profit organization aimed at connecting cancer fighters, survivors and family members in a supportive network.
"Our team has created the largest network in the world of survivors," he said. "I mentor and help people every day."
The presence of business leaders won't end at the commence of career day, though.
John Riccione, managing partner at Aronberg Goldgehn Law Firm, who spoke to a class of eighth-graders, has agreed to bring in two attorneys once a month for working lunches with students interested in becoming lawyers, beginning next month.
"Were really big on asking community members to come out and help educate our students," said Morgan.
This will be the year the first class graduates from Catalyst Circle Rock Charter School; thirteen seniors will receive high-school diplomas, and Morgan, noting that each student has college prospects.