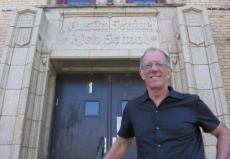 Austin Polytechnical Academy has been in the headlines recently with articles in The New York Times, The Chicago Reader, Substance and AustinTalks.
The articles focused on recent turmoil at the school. Some of the teachers received poor evaluations and were asked not to return; some students took disciplined action in support of those teachers and were suspended. We have a new principal —the third as we enter our fifth year. To some, these realities became the whole or key story about Austin Polytech.
Quite the contrary. Austin Polytech is a work in progress representing a distinctive public/private partnership that is beginning to effectively link a growing advanced manufacturing sector in Chicago to a West Side community and to Chicago Public Schools.
In this case, the turmoil reflected growing pains as we transition from a school with relatively weak academic performance and accountability to becoming a school that is increasingly  systematic in its approach to improve teaching and learning — a reality that was generally ignored in the flurry of articles and blogs.
In March, a delegation of 15 educators, a principal and assistant principal, and community leaders including Gary Yee, the chairman of the Board of Education in Oakland, Calif., visited Austin Polytech.
Mr. Yee said, "Hearing and reading about APA and the Chicago Manufacturing Renaissance Council is one thing. Seeing the school and meeting the teachers, students and partners is truly inspirational."
One of Gary's inspirational moments came as he sat in the Advanced Placement Calculus class taught by Steve McIllrath. Fourteen or so students were totally engaged in a contest to determine the specs of a steel part that had been made in the Machining Class using the calculus they were learning. This was a great example of true contextual and integrated learning — that Gary as an educator recognized.
In spite of other academic challenges, the rate of improvement of math scores at Austin Polytech has placed it in the top 20 schools in the city. Students have great instruction from several great teachers in math; work with applied math in their engineering and machining classes; and visit companies where the math they are learning is used every day in making products and earning money.
In June, a team of evaluators from the National Institute for Metalworking Skills (NIMS) did a two-day rigorous evaluation of the school including interviews with 12 students, the engineering and machining teachers, the principal and assistant principal, manufacturers and others.
In accrediting the schools program, they said: "APA provides an excellent program with clearly stated goals and requirements, which have been established by the industry advisory committee based on a thorough needs assessment of local manufacturers…. Exceptional employer advisory committees are in place and are very active in supporting the mission of the program. Both advisory committees are committed and vested in the program's success and employer companies are eager to hire credentialed entry-level people."
Austin Polytech is an effort to improve public education through a new partnership between CPS and advanced manufacturing companies eager for a new generation of employees, managers and owners. CPS hires, supervises and evaluates the principal and teachers; the Chicago Teachers Union represents the teachers to ensure fairness; and the Chicago Manufacturing Renaissance Council (CMRC) and the Center for Labor and Community Research (CLCR) build the career program and partnerships among manufacturers and in the community.
Austin Polytech is a start-up around a distinctly new model for public education in a community that faces huge economic and educational challenges. But as a new school, it has already set new standards in public education in partnerships and performance. It is part of the story that sees the interesting contrast between 13 million people unemployed, yet 3 million typically high-paid and high-skilled jobs going unfilled in the United States.
The school connects the Austin community to some of those unfilled 3 million jobs as a first step towards rebuilding its industrial base and a healthy future. In just four years, we have established partnerships with 65 manufacturing companies who are providing funding ($200,000+) for public education on the West Side as well as internships, exposure, job shadowing and jobs for students.
Austin Polytech is endorsed by Austin Coming Together —a broad-based community coalition — eager for re-development of the community including a re-vitalized manufacturing sector. Austin Polytech is now recruiting parents and adults in the community to have a similar education program in the evenings and on the weekends so they can also get National Institute for Metalworking Skills (NIMS) credentials and fill those unfilled jobs.
Twenty-two students have paid internships and jobs this summer including eight seniors. This is a small number, but it takes time to build a school along the lines of a new model.  Eighty-nine  students share 125 nationally recognized credentials from the NIMS and the school's machining program and center were just accredited by NIMS — making Austin Polytech the only high school in Illinois with such a designation and one of just a few nationally.
Graduating senior Tiera Logan's story needs to be shared. She always dreamed of being a pharmacist, but this didn't keep her from wanting to fully participate and take advantage of Austin Polytech's manufacturing career program.
She job-shadowed at Tarny Inc., had two summer jobs at Freedman Seating and Strive Co., and a spring break internship at Overton Chicago Gear. With her classes in engineering and substantial work experience, once Tiera graduated from Austin Polytech she was invited to interview at Arrow Gear Co. for a trainee CNC Operator position.
Arrow Gear's HR Director Mary Ann Cervinka took one look at Tiera's positive demeanor and all the experience on her resume and immediately began to recruit Tiera to work for the company. The trainee position would have started at a salary of $45,000 per year, plus benefits with a clearly outlined schedule for pay increases and promotions.
Mary Ann even told Tiera that the company would front the money for a down-payment to buy a car so that she could easily commute to the suburban location. Tiera was very excited about the opportunity being presented to her. She wanted to think about it. She had also been accepted to a college where she could start studying to be a pharmacist.
Ultimately, Tiera decided to turn down the opportunity at Arrow Gear, but she was very appreciative to have a choice between two exciting opportunities and the knowledge that because of her experience at APA, she will always have options.
It's been a challenging few years the Chicago Manufacturing Renaissance Council raised the alarm in 2008 when the majority of the first class of freshmen at Austin Polytech were failing or making D's in Algebra.
The then-principal responded to us that there was little that could be done — our students came from very poor families and faced too many barriers, and they were too far behind in light of their elementary school experience to do well in the challenging program at APA.
We already knew there were particular challenges for students in Austin, but we wouldn't have started the school unless we believed they could be overcome. A "laissez-faire" approach was unacceptable.
We saw it has a good development when CPS intervened and placed the school on academic probation and initiated an evaluation process of the teaching staff this last year rather than deny or ignore the shortcomings as has been the case in years past.
This model requires high academic performance. Seven (not 30 as claimed in one article) teachers were asked not to return next year. They are represented by the Chicago Teachers Union (Austin Polytech is a public school managed by CPS, not a charter or contract school).
We don't know the individual cases of the teachers or if the process of evaluation was in line with the contract. We depend on the union grievance procedure to sort that out, and we have confidence in the Chicago Teachers Union — an original member of the Design Team that established Austin Polytech.
But we do know that part of the cause for academic problems are directly related to administrative leadership and teacher performance, and it's an advance that CPS engaged these issues rather than avoiding them as had been the case in the past.
Test scores and performance are modestly improving in the school. In 2010, the ACT average was 14.6; in 2011 it is 15.0 with gains in all areas. In math, scores went to 16.1 — a rate of improvement that places Austin Polytech in the top 20 schools in the city.
Math improvement is a great example of the power of contextual education available at Austin Polytech. All students take the national pre-engineering course Project Lead the Way, which can qualify them for college credit at some universities. Our students do well in city-wide math competitions. Ninety-two of 99 seniors got their diplomas this June; and 59 students have been accepted to college.
Austin Polytech also has John Marshall Law School as a partner. Students have been awarded over $108,000 in scholarships to the law school because of their success in mock trials. We see a lawyer practicing IP law as a manufacturing career.
We also have members from the International Society of Sustainability Professionals who teach sustainable business practices at Austin Polytech. We see a manager of a company leading sustainability as a manufacturing career. We are also in the process of developing a partnership with the School of Engineering at Northwestern University. Being an engineer can also be a career in manufacturing.
We now welcome our new principal, LaTonya Austin. She was interviewed by parents, teachers, students, partners, community leaders and CPS. She has extensive experience as a principal and a teacher. She's a strong leader.
And she embraces the vision of the school. We are absolutely confident that she will build a strong common culture in our school and lead continuous improvement in our academic performance, our career program, and our relationships with the community and partners.  Her success will, in part, come from the honest engagement of challenges and barriers in our first four years at Austin Polytech.
Austin Polytech is a complex story as we would expect with a new model, new partnerships and a vision about community development and manufacturing. There are real opportunities for meaningful careers for students with and without college education despite public misperception, and American manufacturing is not dead.
As Austin Polytech continues to improve, new efforts to replicate the "polytechnical model" will have the benefit of lessons learned in Austin. There are early efforts at replication by educational leaders in Oakland, Calif., and Pontiac, Mich.
You will continue to hear more about this new approach that is part and parcel of an effort to rebuild the productive capacity and sustainability of American society beginning with a transformation in public secondary education and communities like Austin.
This approach will create a healthy future for our students, our communities, our companies and our society as a whole.
Dan Swinney is founder of Austin Polytech and executive director of  the Chicago Manufacturing Renaissance Council and the Center for Labor and Community Research. He may be contacted at dswinney@clcr.org.