Twelve-year-old Travis Feazell has been playing drums for seven years. He learned at church by watching his uncle play, taking over for him when he left. Travis continued playing in his school's jazz band once May Community Academy partnered with the Chicago Jazz Philharmonic.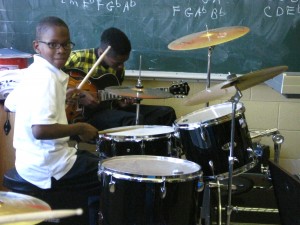 Travis is preparing for the 3rd annual Chicago Jazz Philharmonic summer jazz academy, which begins today. For the past three years, CJP has partnered with the University of Illinois at Chicago to provide a two-week summer program (one week for high school students).
It offers a chance for students to see live performances, educate themselves in music and to set foot on UIC's campus. The program is at capacity with 150 students. Schools wanting to partner with CJP should call 312-966-2368.
Click below to hear the rest of the story.
[podcast]http://dl.dropbox.com/u/2584446/Travis.mp3[/podcast]