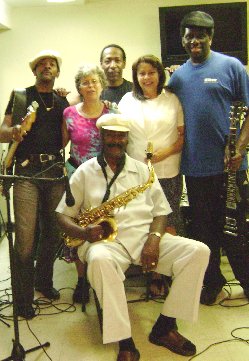 Parents, educators and everyone concerned with youth in Chicago are invited to a special music assembly featuring the traveling workshop Chicago School of Blues at Spencer Tech Elementary School, 214 N. Lavergne.
The event will be held at 1 p.m. May 4.
The Chicago School of Blues is a joyous, multi-cultural experience for students, visiting musicians and teachers. Through music and movement, the teaching artists encourage the students to be creative, cooperative and civil.
At Spencer – a school whose motto is "look beyond the immediate" – the visiting teaching artists aim to show students new ways to respect themselves and the heritage of their community.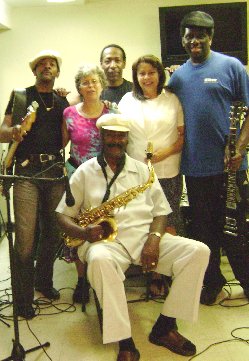 Hip Hop, rock'n'roll, swing,  R & B and many other styles of music are all derived from Heritage Blues. The Rolling Stones, the Beatles, Aerosmith, Elvis Presley and other famed performers trace their sound back to Heritage Blues.
African Americans originated the music as they coped with long hard work and unfair bosses in the cottonfields and levy camps of the South. When they migrated to northern cities, the musicians adopted electric instruments and upbeat rhythms. Chicago is the birthplace of electric blues.
Teaching artists Barrelhouse Bonni and Miss Taj will help students compose their own blues verses to present on stage at the assembly. A live band – featuring Killer Ray Allison on guitar, Barry on Bass, West Side Wes on drums and Barrelhouse Bonni on keys – will play favorite blues and soul tunes for the students and teachers.
"Music kept me off the street," says West Side Wes. "When I was growing up in the 1960s, everybody around me wanted to be a gang banger. But I just wanted to bang on my drums."
He leads his own West Side band, Smokestack Lightning.
Killer Ray Allison's quick draw staging, versatile guitar and strong voice please crowds, from his South Side neighborhood spots to the Chicago Blues Fest and around the world.
He says once kids see musicians playing instruments, they want to try it: "Right away the kids see it takes a lot of know-how, skill and strength in your hands to play the right chords and get into the rhythms. Learning music gives them something to work on."
Miss Taj, who teaches mind/body disciplines using holistic art and science to all sorts of classes from international corporations to neighborhood arts centers, says music and movement are keys to helping students grow aware of themselves and others.
This is an essential step toward healing and peace in all neighborhoods, she adds.