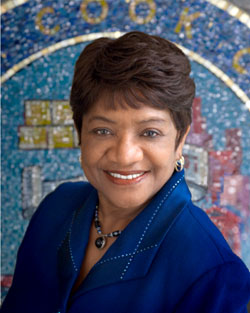 Democrat Commissioner Earlean Collins easily defeated Green candidate Ronald Lawless in Cook County's 1st District, which covers parts of Chicago's West Side, including Austin, Bellwood, Broadview, Maywood and Oak Park.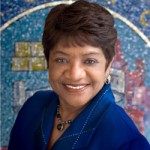 Despite criticism from her opponent of her support for outgoing President Todd Stroger's 2008 penny-on-the-dollar county sales tax hike and complaints that she's not visible in the district, Collins pulled off a decisive win with 86 percent of the vote.
Collins won 67,274 votes, while Lawless had 10,908 votes. In the city, Collins swept all 10 of the wards that touch the 1st District, garnering 41,136 votes to Lawless' 3,957, according to the Chicago Board of Elections. In suburban Cook County, the Democrat won 26,138 votes to the Green candidate's 6,950, according to the Cook County Clerk's office.

Lawless said he knew going into the campaign that the district heavily favored Democrats, but he thought a financially troubled county budget and Collins remaining largely out of sight would help him.
"Collins has spent her time on the board doing little more than picking up a paycheck," said Lawless, an educational consultant, whose billboards dotted the West Side. "People want more for their votes, they want a representative who comes around even when it's not Election Day."
The Austin native said Collins was never interested in debating the issues and stayed quiet through out the campaign.
Statewide, Green candidates had trouble winning much support, proving that the party is not yet a viable alternative for voters, said Dick Simpson, head of the political science department at the University of Illinois at Chicago.
"Collins was able to win because the support of the Democratic Party is strong in her district," Simpson said. "Even though Lawless ran a strong race, in general, the Green Party was not strong enough to off-set the strength of the Democratic Party."
But some Green Party supporters were just happy to get on the ballot.
"We got enough of the vote to retain our third-party status in the area," said Bruce Samuels, an Oak Park resident and Lawless supporter. "It's hard to build a third party, but we will keep trying to win elections and educate the public."
David Morrison, associate director of the Illinois Campaign for Political Reform, said despite Collin's lack of campaigning, which included no campaign Web site or e-mail contact, that her name recognition was enough to get voters to stick with her.
"The name Collins holds a lot of respect in that part of town," Morrison said. "The voters will go with who they know."
Collins, first elected commissioner in 1998 after 21 years in the Illinois Senate, did not return phone calls over the last week and refused to answer questions both on election night and at the Cook County Commissioners Board meeting Wednesday.
"I'm too busy here," Collins said on election night, as she sat with a group of her supporters waiting for the votes to be tallied after the polls had closed. Collins said she would make time to speak with the press at the board meeting the next day, but she again declined to comment Wednesday.
"I'm too busy with my meeting," Collins said when asked what her top priorities would be for her district over the next four years.
Collins voted to uphold the historic 2008 cook county sales tax increase, a vote that newly elected Cook County Board President Toni Preckwinkle will have a chance to consider repealing when she's sworn in Dec. 6 along with 17 commissioners. The board must also grapple with how to plug an almost $300 million deficit in its annual $3 billion budget, according to a new report from The Civic Federation.
austintalks.org@gmail.com