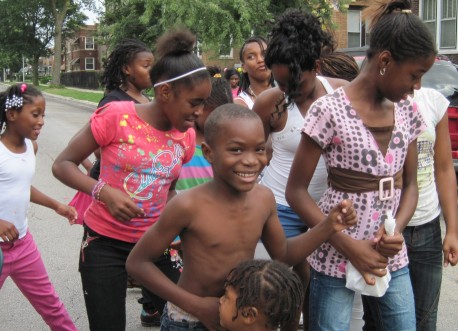 After the storm passed, dozens of residents from the 5300-5500 block of Quincy Street came out and rang in the start of the school year with music, food and fun on Saturday. The Quincy Block Club hosted its annual event both to get the children excited about going to school and show their pride for their neighborhood.
Mary Brown, block club president and retired nurse, spearheaded the event for the 10th straight year.  She moved into her home in the 5400 block of Quincy Street in 1973 and has been actively involved with the community virtually ever since. (Don't miss AustinTalks' recent story about Brown.)
Her commitment to the Austin neighborhood can be seen in her work with Community Alternative Policing Strategy (CAPS), as a former foster mother, assisting teen mothers and as a court advocate.
Brown,70, ever-vigilant of what is happening in the community, said she strives to get others involved in keeping the neighborhood and youth safe.
"I guess I always want to see things improve," said Brown.  "There are still problems, but it's being watched."
It's a challenge to get people involved, said Brown, and she said she would like to see some younger people take her place.
Not many communities come together like this, and Brown is a large part of that, said Shirley Waters, Brown's roommate and sister. Waters, 80, has been involved with the block party since Brown became block president in 2000.
Many of the active members of the neighborhood have lived on the block for decades, said Cynthia White, a member of the Quincy Block Club who's lived on Quincy Street for 40 years. White said she hopes to see the children out having a good time.
"I hope the kids will enjoy it," said White.  "That's the reason we're doing this."
The community is close knit, said Willie Dobyne, a member of the senior committee and mentor to Jerry Marurzaz, another Austin resident.
Members of the Chicago Fire Department came out to provide some much-needed relief from the heat by opening a fire hydrant, which several children were more than eager to enjoy.
Brown's home became the central hub with other neighbors hosting their own stations, which included making coconut, bubble gum and fruit punch-flavored snow cones.
Several volunteers, all donning lime green T-shirts made specially for the block party, included many of Brown's relatives who traveled from out of state. Archie and Elizabeth Triplett, Brown's brother and sister-in-law from East St. Louis, said they visit Brown two to three times a year but make sure to plan one of those annual trips to Austin during the block party.
It is rare to have a neighborhood come together like this, Triplett said.
Rosalie Jackson, former block president, said she's glad the neighborhood is still so close. Many of the neighbors have lived on the block for years, said Jackson, who's spent the last 40 years living in one house in the 5300 block of West Quincy Street.
Deejay Sheila Barber provided musical entertainment, playing songs from artists ranging from Sam Cooke and James Brown to Alicia Keys and Keyshia Cole, which brought several of the children to their feet.
The block party is a great way to show the youth how important education is to a successful future, Jackson said.
In addition to hot dogs, brats and gift bags, the children also received back packs to start the year off.
austintalks.org@gmail.com