Students attending a private Christian school will start the year in a renovated building that used to be Francis Scott Elementary School until CPS shuttered it nearly a decade ago. Now the building will house pre-K through eighth grade students attending The Field School.
"We're so excited to be in the Austin neighborhood, in part because our original launch plan was to be in Austin," school head Jeremy Mann said. "So, to be now in 2022 opening our doors just a block away is a dream come true."
Up until this school year, students who are primarily from Chicago's West Side, Oak Park and other west suburbs, attended classes at 931 Lake St. in Oak Park, with some students traveling from Chicago's North and South sides.
In a ribbon-cutting ceremony planned for Monday, Aug. 22, parents, students, teachers and school administrators will see the renovated interiors of the north building, an upgraded playground and refinished parking lot, the first phase in their renovation plan.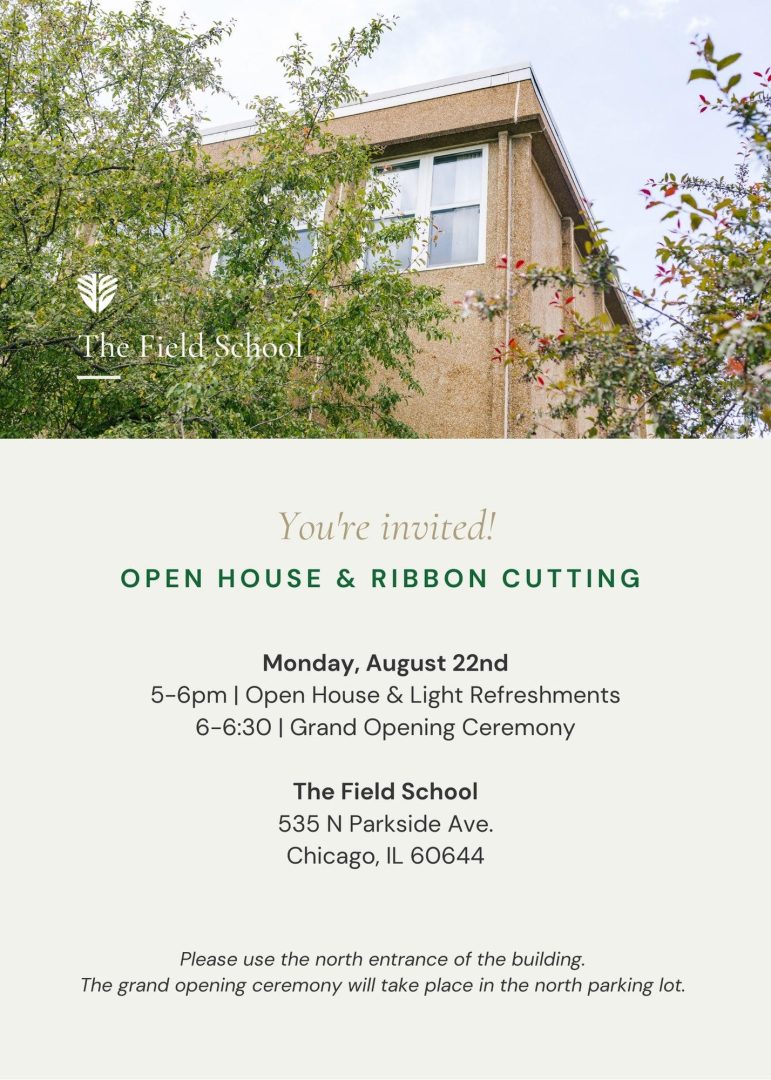 Twenty-five percent of the students come from families making less than $30,000 a year and 25% from families making more than $130,000 a year, chief advancement and partnerships officer Jessica Min Chang said. Tuition is calculated following a sliding scale based on a family's income, ranging from $800 to $18,000 a year.
"We intentionally want to give home field advantage to children from low-income families who sadly don't often have strong educational options within their own communities," Mann said.
The student population, totaling 225 students, comes from diverse racial backgrounds, with 25% of the students identifying as African American, 40% as white, 15% as multiracial, 15% as Latino and 5% as Asian American, according to Min Chang. "We're a racially and socio-economically diverse school. "
With the completed renovations, students will have an upgraded learning environment at the 20,000-square-foot building located at 535 N. Parkside Ave.
"You'll see artwork representative of all different kinds of cultures," said Dr. Daisey Dowell, who serves on The Field School's board and is a former CPS teacher.
Art is an important component of the private school's curriculum, influenced by the classical education tradition and work of Charlotte Mason, a 19th-century Christian educator.
The school day also includes reading and math classes, music, physical education, science and social studies, and a second language – Spanish or Latin. As a Christ-centered institution, school days start with time to read scriptures, pray and sing.
"Falling in love with learning is maybe the most important thing we want to have happen at school," Mann said.
The $4.5 million in improvements also included replacing electric, plumbing and mechanical connections, and removing asbestos..
"It does require a large amount of capital to bring it up to usable and safe conditions," said Cindy Gray Schneider, principal at Spaces + Places who oversaw the renovation. She said some of these investments were needed because mechanical units were vandalized, and the copper wiring was stolen after the school acquired the building.
"One of the beautiful things about this building is it's so close to so many of like Austin's cultural treasures … the Austin library, Austin Town Hall, Harambee Community Garden," Gray Schneider said.
More renovations to the former CPS school will be completed in the next couple of years, according to school administrators. That will help accommodate the growing student population, which is expected to reach 360 students pre-K through 8th grade.
"We're looking forward to joining the good work already being done, to honor the rich legacy of the Austin community and to build toward new possibilities together," Min Chang said.