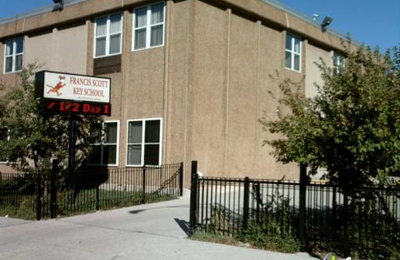 Some local residents are complaining that CPS kept them out of the loop about the recent sale of former Francis Scott Key Elementary to a private, Christian school. It has been vacant since CPS shuttered it and three other Austin schools in 2013.
The Chicago Board of Education approved the $175,000 sale Jan. 24th to The Field School, now operating at 931 Lake St. in Oak Park. The Field School plans to use the space at 517 N. Parkside as a K-8 school to educate about 300 diverse students, school head Jeremy Mann said.
Dwayne Truss, a longtime Austin resident and community organizer, was upset to learn about the sale of the building, saying decisions about which schools West Side children attend should involve engagement from active members of community groups.

"What's so hard about having a conversation?" Truss asked.
The lack of communication between CPS and residents about the sale left him dumbfounded.
If there had been a conversation, it would have involved discussing the issue of whether residents can afford to send their children to a private institution instead of a public school, he said. 
Mary Hughes, a board member of the parent advocacy group Raise Your Hand, also criticized CPS' lack of communication. "The city does not care about the poor, minority communities."
But the new school's operators say the former Key School – located across from Douglass High School and around the corner from Austin Town Hall and a Chicago library branch – will be "a perfect home for The Field School."
The school hopes to collaborate with existing organizations in Austin to foster racial reconciliation, community empowerment and urban renewal.
"In the past, families seeking a diverse school had to travel outside of the neighborhood. The Field School makes diversity a local option for Austin families," Mann said in a press release.
More than 50 percent of the students now attending Field School in Oak Park come from low-income households, half of whom make less than $25,000 a year. Twenty-five percent of the students live in households earning more than $120,000.
About 40 percent of students are African American, 28 percent white, 8 percent Hispanic/Latino, 8 percent Asian and 17 percent multi-racial.
Mann said tuition is on a sliding scale, with families earning less than $30,000 paying about $400 in tuition; a family of four earning more than $115,000 pays roughly $7,500 for their first child and less for each additional child. 
Ald. Chris Taliaferro (29th) said when he first learned about The Field School's interest in May 2017, he advised them to hold a community meeting.
The alderman said CPS is responsible for reaching out to the community since they own the property, and he was unaware a bid had been approved until recently.
Taliaferro said of the four Austin schools that CPS closed in 2013 – Robert Emmet Elementary – was the only one in which education officials engaged West Side residents to discuss plans for the building because of the large amount of community outcry.
CPS did not return repeated calls.
It would have been beneficial for the community to have had the chance to discuss how students with special needs will be served by a new school, advocates said. They expressed concerns about whether The Field School has plans to ensure proper assistance for students with disabilities and special needs.
Hughes said too often students with special needs get left behind; a great deal of planning goes into meeting the needs of general education students, and students with special needs don't always get the same consideration.
Mann, who began his career as a special education teacher, said The Field School currently assists students with special needs by working with teachers in partnership with Aspire, an agency that specializes in offering services to students with disabilities.
"Like most small schools, we do not have the capacity to serve students with severe disabilities, but as we grow, we will be able to offer families more options. Some of the improvements we hope to make to the Key building relate to increasing accessibility," Mann said.
He said the sale price – a surprise to some given the size of the building – took into account major repairs and renovations that are needed. He estimates in total it will cost $5 million.