"If you leave out of here, I want you to remember one thing: This meeting is about building bridges across communities."
That's what Leroy Duncan, an Austin "everyday activist," said last weekend during a panel discussion held at the Austin branch library as part of a months-long photography exhibit that ends March 31.
Duncan and five other Austin and Oak Park residents shared their thoughts during the March 13th panel. Tina Augustus, Dollie Sherman, Sandra Sokol, Vanessa Stokes and Anandita Vidyarthi talked about their experiences help revitalize their communities. The panel was moderated by Susan Stall, one of the creators of the Everyday Activists photo exhibit.
The need to build a sense of community was a common theme among panelists, who reflected on their personal stories of how they became "everyday activists."
The panelists said building bridges between Oak Park and Austin residents starts with communication, even if that means having difficult conversations about racism and inequality.
"How to build bridges is really stepping outside of your comfort zone," Stokes said. "It is not an easy conversation, but if we want to move forward, we gotta have these conversations."
Stokes and Vidyarthi have found in arts and culture an effective way to build community.
Stokes is a photojournalist, arts activist and creative consultant who helped co-create Pop Courts, an outdoor event space in Austin. Vidyarthi, a former student of Oak Park River Forest High School , is a political activist, poet and organizer who founded the Asian student organizations South Asian Youth (SAY) at OPRF and co-founded Asian Ink at the University of Illinois at Chicago (UIC).
"If I can use art to bring people together and have other social and cultural conversations, that's what I'll do," Vidyarthi said.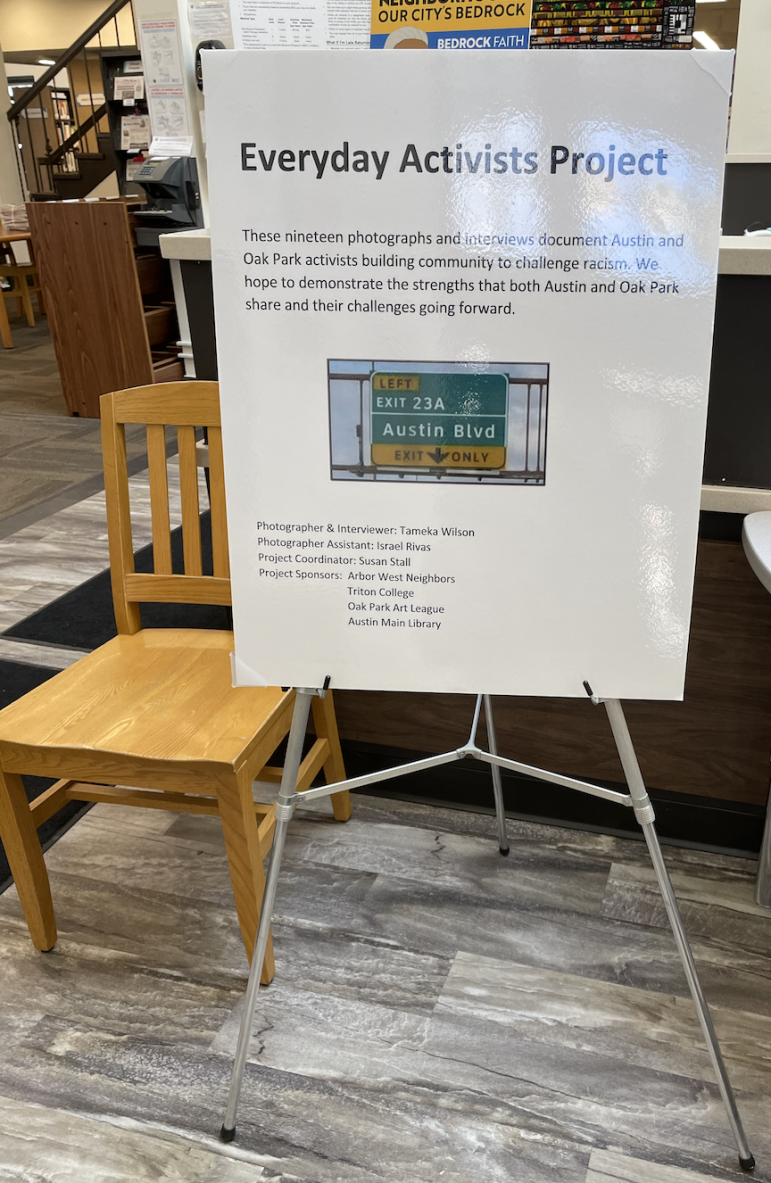 Bringing neighbors and residents of the community together is key to achieving changes.
For Sherman, youth outreach coordinator at Austin Coming Together and a block club leader, and Sandra Sokol, a community advocate and former Oak Park village clerk, the first step to improving their communities started with themselves. They took action and invited others to join, gained attention from public officials and advocated for the changes they wanted to see in their neighborhood.
"We keep the folks on their toes as representatives of our respective communities," Sokol said.
Augustus and Duncan said building bridges between Austin and Oak Park not only supports economic development but also creates a network of support where people learn from one another.
Augustus is an entrepreneur, organizer of the Austin Block Club Association and founder of the Chicago West Side Chamber of Commerce. Duncan is a civic activist, a member of the North Avenue Neighbors Association, the Westside Men's Network and a former community representative for the Community Justice Center who worked with the 25th Police District.
"To be an everyday activist, you have to have support," Duncan said.
The panelists reflected on various topics that are key to developing and improving the lives of Austin and Oak Park residents, including:
*Youth are the future of the community and need to be engaged. "[Our kids], they really need us," Sokol said. She reflected on the negative impact social media has on young people, calling on residents, parents and neighbors to interact, engage and community with young people in Austin and Oak Park.
*Improving Austin's economy means supporting Black businesses. There's an opportunity for Oak Park residents to support economic development in Austin by shopping at places such as Soul City Community Market, created Liz Abunaw, another "everyday activist" who was not at the panel.
*Public safety is crucial to making Austin a safe and prosperous community. Duncan said people need to feel safe in their neighborhood and encouraged residents to get involved in conversations with their police districts to advocate for safety.
The panelists urged Austin and Oak Park residents to come together and work with their elected officials to improve both communities.
"It's the system. It can be broken and shattered and fragmented and crazy, but it's still the system … where we live. … So we gotta find a way to work with these people," Stokes said.