An Austin native will be opening an art gallery, wellness lounge and recording studio along a stretch of Chicago Avenue being developed as the Soul City Corridor.
Marseil Jackson recently purchased a vacant building at 5849-51 W. Chicago Ave., which he is turning into Soul City Studios.
Jackson said the vacant building has been "an eyesore" for years, and his "goal is to light that corner up."
The two-story building will undergo a complete renovation. One of the two storefronts on the ground floor will be developed into an art gallery, the other into a wellness lounge.
Jackson said the wellness lounge will offer a space where residents can congregate and enjoy themselves, while also accessing healthy food and some types of preventive care.
During the evenings, he said, they will be offering classes on general wellness and healthy eating.
Malcolm Crawford, executive director of the Austin African American Business Networking Association, said he's excited to see a facility focused on preventive wellness coming to the Soul City Corridor.
The current attitude is, "it's after you have diabetes, it's after you have the mental health challenges, it's after you have all of those things, how do we help you after that?" he said.
"It's phenomenal" there will soon be a place for people to access preventative services, Crawford said.
The second floor of the building will become Soul City Media, a fully equipped radio station and recording studio.
Jackson, who co-hosts "The Brunch Bunch" on Inspiration 1390 and iHeartRadio, said people will be able watch them broadcasting live "like Times Square."
Jackson said both the studio and a state-of-the art recording studio will be available for community members to rent.
They're partnering with some producers originally from the West Side but now based in LA and Atlanta to make the studio a spot where "some of our homegrown celebrity artists" can come record, he said.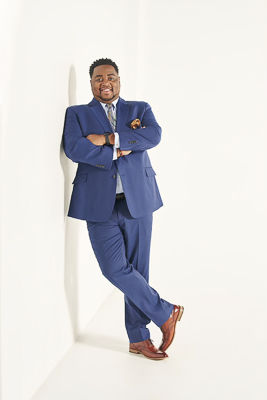 Doug Morrow, host of urban commentary podcast "The No 4Play Show," will be recording his podcast in the studio space.
Morrow said the podcast's audience is growing and it's time to upgrade to a "more professional sound." He wanted to start recording out of a studio while keeping ties with the neighborhood where he was born and raised.
"Anything I do is going to be tied to the Austin area," he said.
Having professional studio space in Austin will give children who want to pursue any sort of media something to look up to, he said. "When you see things like that in your community that gives people goals and aspirations."
The Soul City Corridor encompasses Chicago Avenue from Cicero Avenue to Austin Boulevard. Crawford wanted a way to develop a cultural and economic hub for African Americans in Chicago
While Chicago has Chinatown, Greektown, Boystown and Ukrainian Village, "there is no economic driver for African Americans," he said in an interview last year.
The strip of Chicago Avenue that comprises the Soul City Corridor was selected as one of 12 priority business corridors to be revitalized under Mayor Lightfoot's INVEST South/West initiative.
The city is currently selecting a developer to rehabilitate the Laramie State Bank building at Chicago and Laramie avenues.
Crawford said everybody in the community is going to benefit from the continued development of Soul City.
Jackson said his timeline for completing the renovation is "ASAP."
While the final timeline comes down to the general contractor, he has funding lined up and hopes to be open no more than 12 months from now.
"I want our project up and running," he said.