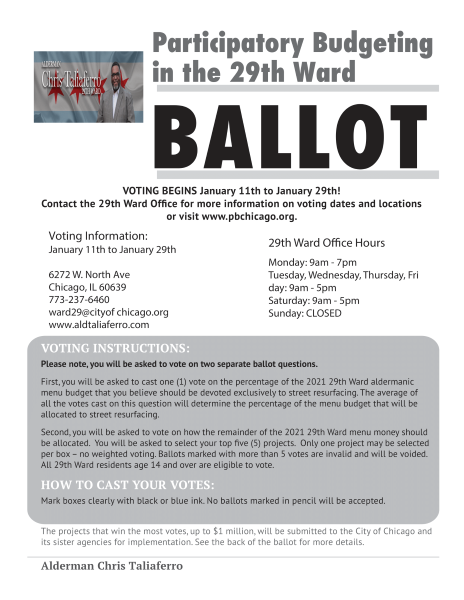 West Side residents have until Jan. 29 to vote in this year's participatory budgeting cycle that will determine how the 29th Ward spends $1 million of menu money.
Between 60% and 100% of this year's money will go to street repairs and resurfacing.
Norma Hernandez, a community development planner who works for UIC's Great Cities Institute, which administers Chicago's PB program, said residents can vote for up to five (out of seven total) projects for the remaining money to be spent on.
Those projects are: installing community identifiers for Galewood; public art at Sayre Language Academy; a mural or mosaic at Columbus Park; the installation of speed bumps and four-way stop signs; community gardens; a fitness course at Austin Town Hall; and bike lanes in the central and south part of the ward.
Specific locations for the bike lanes, stop signs and speed bumps are not listed on the ballot because the Chicago Department of Planning and Development hasn't completed surveys of the proposed locations, Hernandez said.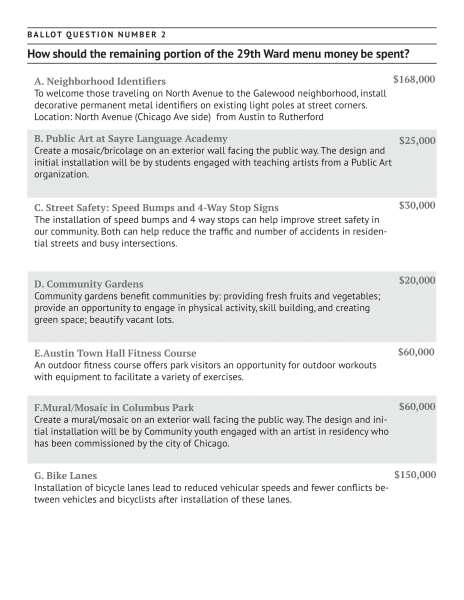 Ald. Chris Taliaferro first brought participatory budgeting to the 29th Ward in 2017, during his first term.
In a statement, he said participatory budgeting gives him the opportunity to engage with residents and understand what the deem to be the most important projects in their community.
All residents over the age of 16 are eligible to vote, said Byron Watson, who is managing the process and works for the alderman.
To vote, residents need to register by filling out a Google form to verify their residency and identity. Once verified, the alderman's office issues a unique access code and a link for the voting portal.
Hernandez said one of their goals when designing the 29th Ward's participatory budgeting program was to increase voting turnout each year; over 390 residents voted in the first cycle.
Increasing turnout is a tall order this year; both outreach and voting have been forced almost entirely online.
The committee had hoped to do more outreach, drawing in more residents, "but then the pandemic happened," Hernandez said. "We don't know what our results are going to look like."
Maria Sorrell, who leads the team representing the central portion of the ward (from North Avenue to Lake Street) expressed concern about online voting for the ward's seniors.
Sorrell said many of the people who make up Austin's senior population, "don't have internet access or even if they have it they don't know how to use it. They don't have email addresses and whatnot."
The other sections of the ward are north (Roscoe Street to North Avenue), led by Tom Drebenstedt, and the south (Lake Street to Roosevelt Road), led by Tina Augustus.
Watson acknowledged "there's a large population of people that just haven't been able to be reached."
The ward newsletter, which contains the link and QR code for online voting registration, has 2,121 recipients, he said, yet more than 55,000 people live in the 29th Ward, according to the alderman's website.
Hernandez and Watson both said the committee members were key to getting the word out.
"A lot of our committee members have a lot of networks in the community, ror example, Miss Augustus. We try to just use everybody's networks," Hernandez said.
Augustus, who is president of the Austin Adams Block Club, has tapped into her network, which includes the South Austin Neighborhood Association and the Austin Chamber of Commerce; she's also president and CEO of Elevate Services.
Hernandez is optimistic about how this year's participatory budgeting will turn out.
"PB has really stopped in a lot of other cities … we are actually one of the few cities that kind of grew within the pandemic as far as still advocating for more participatory practices within our democracy."
You can register to vote here, view the sample ballot here, and sign up for the 29th Ward newsletter here.