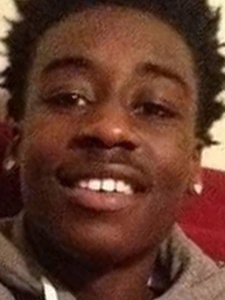 For Sharita Galloway, another holiday season has come and gone without justice for her son, Elijah Sims.
Sims was a senior at Oak Park River Forest High School when he was shot in Austin on Aug. 29, 2016.
Galloway said Thanksgivings are the hardest.
This year, "I didn't even cook any of his favorite foods." They were the only two people in the house who liked sweet potato pie, she said, "but it's gotten to the point where I can't even chew and swallow pieces of sweet potato pie."
Late last summer, Galloway stood before about two dozen people at a gathering marking the fourth anniversary of her son's death.
She shared the pain she feels every day because she believes his killer is still out there.
"The person who shot and killed my son, they need to wake up every day like I have to do, but they need to wake up behind bars," she said. The killer "deserves to wake up every day, miserable, like I have to wake up every day, miserable. He need to wake up every day in jail, suffering, like I have to get up every day and suffer without my son."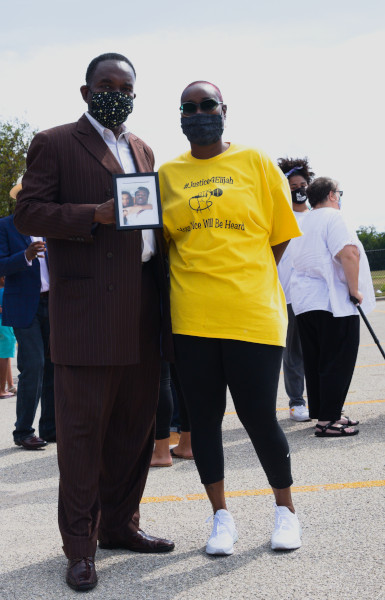 After four and a half years, she is still fighting for Chicago Police to complete the investigation into his death.
CBS reported at the time that Sims was with a group of people near the corner of Quincy Street and Lotus Avenue when about 10 p.m. someone fired into the crowd, striking two people.
One, a 15-year-old boy, was shot in the back. The other, Elijah Sims, was shot in the head. Both teens were taken to Stroger Hospital, where Sims died in his mother's arms the following morning.
Last fall, the Chicago Police Department said in an email the case is classified as exceptionally cleared, which means authorities have identified a suspect, but either the suspect is dead or prosecutors said there was not enough evidence to approve charges.
According to the case file, which was obtained by through FOIA by AustinTalks, Sims' case was determined to be exceptionally cleared in January 2018.
The investigation will be reopened if CPD learns the identity of any other suspects, according to the file.
Galloway said she was never notified the police had cleared her son's case, instead learning when contacted about this development by AustinTalks.
After finding out, Galloway spent weeks in fall 2020 attempting to contact CPD and was continuously told only a supervisor could discuss the case with her; one was never available.
In late September, she managed to reach one of the detectives, Stephen Smith, who told her the case is still open but said he couldn't give her any more information.
Detectives identified the offender, who died on Dec. 16, 2016 – before charges could be brought, said Kellie Bartoli, a CPS spokeswoman.
Authorities declined to say what if any effort had been made to notify the family.
Galloway said she was told by Detective Matthew Daquilante, assigned to the case at the time with Detective Smith, that police had identified the shooter.
But, Galloway said, word on the street said otherwise. She doesn't believe the man police identified is her son's killer.
On the second anniversary of her son's death she went door to door with Crime Stoppers, passing out flyers. That day, a man showed her a picture of the person who killed her son, she said. The name fit with what the rumors on the street had been all along, Galloway added.
"I said, 'Well, could you please tell Crime Stoppers? He told me 'no.' He said, 'because I want to kill him myself.'"
Galloway said she took the information to the police herself but was told by detectives they had already been given another name, and it fit with their evidence.
Galloway said police also told her there's evidence three people shot up the corner of Quincy and Lotus that night.
She said Detective Daquilante told her that CPD had flagged suspects' names in case they get stopped or pulled over, but, Galloway said, "I just can't believe that these people haven't been stopped in four years."
CPD declined to identify the detectives currently assigned to the case or provide anyone from the department to discuss the case.
Galloway said during the investigation of her son's death she was able to develop a good relationship with Detective Daquilante.
She and Detective Smith, however, "didn't really have a good relationship because I didn't feel like he cared as much, he didn't show as much interest in the case," Galloway said.
After Detective Daquilante was promoted, a new detective was assigned to the case.
CPD declined to name the new detective.
Galloway said she tried to get in touch with him. "I left a message for him to call me back two years ago, still haven't got that call," she said.
Elena Calzada was a victim advocate at the Institute for Nonviolence Chicago in 2016 when Elijah was killed and worked with Galloway after her son's death.
Calzada, now a crisis responder for Chicago Survivors, said it's a problem for more than just Elijah's mother that police don't communicate with family members, and that gives the impression they aren't interested in solving cases.
Other families tell her the police stop calling them back. "They're tired of hearing from us" is what they tell Calzada.
"Sometimes they'll hear detectives say, 'Well, we got other cases we have to work on'… so the family's just feeling like their loved one was forgotten," she said.
Calzada said she's seen family members, like Galloway, trying to share information with police about who may have killed their loved ones – but the police don't want to listen.
"I don't call as much anymore because I just get angry," Galloway said. "I feel like they're not working his case."
Authorities brushing off families brings the healing process to a standstill "because they aren't able to get justice for their loved ones," Calzada said.
For Galloway, she hopes one day to get that justice.
"My job was to protect my son and to make sure that he's OK, and to advocate for my son. I'm going to advocate for him until justice is brought to him."