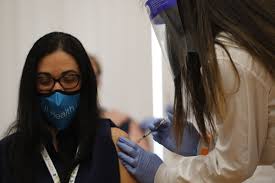 The Loretto Hospital, just four days after the FDA granted emergency use authorization for Pfizer's vaccine, administered the very first COVID-19 vaccines in Chicago to five healthcare workers.
An FDA panel recommended Thursday that Moderna's vaccine also receive emergency use authorization; Chicago could begin receiving shipments of that vaccine next week.
The vaccines can't come soon enough.
Dr. Alison Arwady, commissioner for Chicago's Department of Public Health, said Chicago has been seeing over 1,600 new COVID cases each day and more than 150 deaths every week.
With the vaccine, she said Christmas has come early.
"There's nothing I wanted more for Christmas than a vaccine that looked like this. It has an excellent safety profile, and it has fantastic efficacy … in the trials it was 95% protective against COVID-19," she said.
Rep. La Shawn Ford said it was important the city chose a hospital in a majority Black neighborhood because Black people have been among the hardest hit by COVID-19.
"Blacks have every right to be skeptical," in light of the morbid history surrounding their community and vaccines in this country, he said.
The vaccine kick off at Loretto is the first step in a campaign to educate and convince people to take the vaccine, he added.
"For Blacks to see people who look like them taking the vaccine," and then be able to see the aren't any deadly adverse affects, "that's going to help," Ford said.
Blacks and Hispanics have been the hardest hit by COVID-19, according to the CDC.
Black people are 3.7 times more likely to be hospitalized and 2.8 times more likely to die due to COVID-19 compared to whites.
"The fact that we are one of the first to get the vaccination is recognition that life has not always been fair for African Americans because of the disparities and inequities that exist," Loretto Hospital President George Miller said in a Block Club Chicago story.
Chicago will receive an initial allocation of 23,400 doses of Pfizer's vaccine, which must be stored between 112 and 76 degrees below zero.
Arwady noted the vaccine is brought to room temperature "before going in anyone's arm."
When it's shipped, the vaccine is in a concentrated form with five doses per vial; it's diluted just before injection.
The doctor will clean the site, inject the patient's arm and place a band aid over the injection site, said Dr. Arwady.
"[It's a] very standard procedure, just like a regular vaccine," she said.
Those who receive the vaccine are not fully inoculated until they receive a second dose. In the case of Pfizer's vaccine, that second dose comes 21 days later, while those receiving the Moderna shot will wait 28 days.
Arwady said some patients may experience mild symptoms, such as a sore arm or some muscle aches, but she emphasized these side effects "were short, they were not serious."
Patients will have the option to sign up for a voluntary service called v-safe, which will let them notify the CDC of any side effects they experience.
Mayor Lori Lightfoot said the vaccine arriving in Chicago is "a milestone in our city's history."
Lightfoot said she told each of the pairs of vaccinators and their patients, "they are forever … part of the history in the city of Chicago."
The city will be collecting demographic information on each person who receives the vaccine as part of their effort to ensure doses are going where they're most needed, Lightfoot said.
Responding to the demographic questions will be mandatory: "The demographic information isn't optional. You can't skip it."
Arwady emphasized that being vaccinated does not excuse anyone from following mitigation measures, including wearing masks, social distancing and following Chicago's travel order.
"It is going to take months before we get to a point where we have enough Chicagoans vaccinated that we start being able to think about how vaccine plays into some of those larger decisions," she said.
In early 2021, The Loretto Hospital will be launching a coronavirus vaccine trial with a focus on minority populations.
Dr. Lois Clarke, Loretto's medical director of research, said past drug regimens have to come market, only to find they don't work as expected on minority populations "because they weren't appropriately tested on these groups."
The hospital will host a town hall on the evening of Jan. 6 on Facebook Live. Community members will have the opportunity to hear from a panel of medical professionals and ask questions about the vaccine trials.
Trial participants will receive two years of free healthcare and may opt out of the trial at any time.
Visit The Loretto Hospital website for more information about COVID-19, their vaccine trial and testing.
"This is, I fully believe, the beginning of the end for COVID-19 here in Chicago," Dr. Arwady said Tuesday.
"Happy vaccination day."