Greater St. John Bible Church – in partnership with the Austin Empowerment Coalition – will be handing out boxes of food Wednesdays starting at 11 a.m. through Dec. 23rd at 5213 W. Potomac Ave.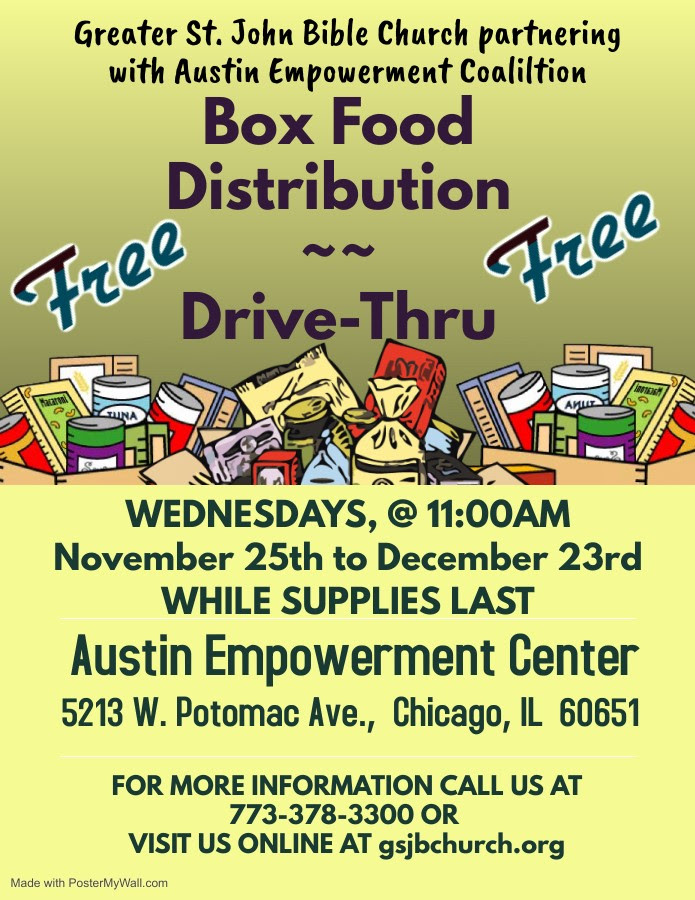 Several other organizations are distributing food to those in need, including:
Beyond Hunger in Oak Park offers drive-thru pantries on Wednesdays and Saturdays at First United Church of Oak Park, 848 Lake Street in Oak Park. On Dec. 3 (the first Wednesday of the month) the hours will be 3:30 to 6:30 p.m.; all other Wednesdays are from 3:30 to 5 p.m. On Saturdays, the pantry is open from 9 a.m. to noon. Details, including what form of ID you should bring, can be found at gobeyondhunger.org/need-help
St Martin De Porres Church's food pantry, at 5112 W. Washington Blvd., hands out food from 10 a.m. to 12 p.m. on Wednesdays and Thursdays For more information, call (773) 287-0206.
The Hope Community Church food pantry, located at 5900 W. Iowa St., distributes food on Fridays from 12 to 2 p.m. All are welcome, no ID is required. For more information, call (708) 415-6077.
Austin-based Forty Acres Fresh Market offers delivery of fresh produce boxes. Now all purchases made with Link EBT will be matched up to $10 per day with Link Match coupons that can be used to purchase more produce at markets and delivery services. For more information and delivery options, click here.