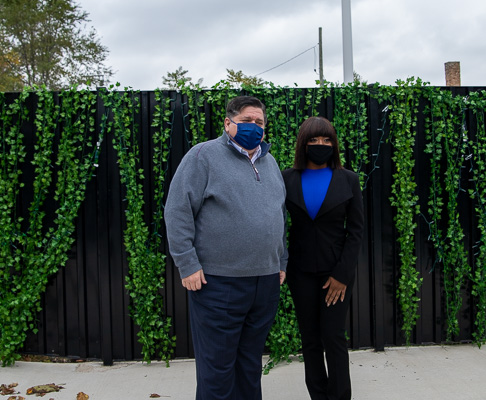 Gov. J.B. Pritzker visited Austin business L. May Creations last week to announce the release of millions of dollars in emergency relief funds for small businesses and communities across the state.
L. May Creations, 5936 W. Chicago Ave., was approved for a $5,000 Business Interruption Grant (BIG).
Gov. Pritzker called businesses like L. May Creations "the backbone of Illinois' economy," and said the BIG program will help workers and business owners "stay thriving and stay on their feet and working."
Erin Guthrie, director of the state's Department of Commerce and Economic Opportunity, said 4,000 small businesses have received grants through the BIG program. Nearly half of those grants have gone to
minority-owned businesses.
There is still $175 million in funds remaining for the program, and the state is accepting and approving applications on a rolling basis until the funds run out, she said.
Guthrie said they're considering factors – including whether a business operates in a disproportionately impacted community, within an industry that has been hard hit or in a region currently under mitigation measures – to ensure the money goes where it's needed most.
Pritzker said the support the state can offer is not enough to fill "a nationwide gap that only Congress, really, can fill."
State Rep. Camille Lilly agreed the federal government needs to step in.
"We need Congress and the president to pass additional relief funding so we can continue to help small business … here in Illinois," she said.
Latrusia May, the owner of L. May Creations, said in an interview after last week's event that small business owners should be applying for all the funding they can get right now.
"I would definitely say apply, apply, apply. The worst you can hear is no, but if you don't ask, you definitely can't receive," she said.
May applied in early October and received the call telling her she'd been approved, as well as the call asking her to host last Thursday's event with the governor at L. May Creations, a few weeks later.
She said the governor visiting her business is good publicity.
She has been able to host events at L. May Creations recently, but with smaller capacities and shorter time limits. While many of her clients were willing to work with the city and state's restrictions, some were nervous and wanted to cancel their events so she refunded their money.
"Just having that BIG grant, I can imagine how it would help other businesses … it was definitely a help to mine," she said.
May is also working on developing a mixed-use, commercial and residential building on the site next to L. May Creations. She said in July the site will feature an upscale soul food restaurant, but she is keeping the name under wraps.
"Any businesses that are looking for a great place to come to, definitely look into coming to Chicago Avenue because something big is about to happen," May said.
Business owners can find resources about the BIG program and apply for a grant here.